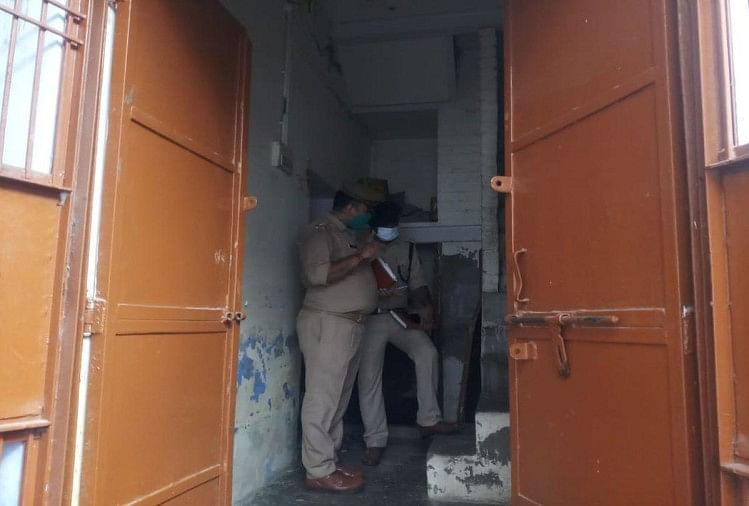 India News
Four Dead Body Found In Agra Live News – Agra: Sensation after finding four dead bodies, murder of woman and three children by slitting throat
On July 22, 2021 by admin
News Desk, Amar Ujala, Agra
Published by: Abhishek Saxena
Updated Thu, 22 Jul 2021 10:22 AM IST
abstract
The SP has reached the spot on the information that four bodies were found. The police have collected the evidence by calling the forensic team. At the same time, the team of Dog Squad is also investigating on the spot.
police reached home
– Photo : Amar Ujala
Detailed
A heartbreaking incident has come to light in Agra metropolis of Uttar Pradesh on Thursday. A woman and her three children were brutally murdered by slitting their throats. The doors of the house were open on Thursday morning, after which the people around came to know about the murder and the police were informed.
The incident is of Kucha Sadhuram of Kotwali police station area. Here Rekha Rathore wife Sunil Rathore was living with her two sons and a daughter. It has been told that Rekha was divorced two years ago. Sunil Rathore lives somewhere else. Rekha has three children, a 12-year-old son, an eight-year-old girl, Mahi, and a ten-year-old son, Paras. On Thursday morning, the door of Rekha's house was open and some items were scattered outside the house. After which the neighbors feared something untoward. People informed the police about it. When the police reached the spot, four bloodied bodies were found lying in the house.
All four bodies have been found on the first floor of Rekha. Sources reveal that items like four lemons, turmeric, diyas etc. have been found in the rooms below. Which is pointing towards the tantra-mantra. But the goods of the whole house are scattered, due to which the apprehension is being expressed that looting has also been done. At present, the police team has collected evidence with the help of the forensic department. Dog squad has also reached the spot and investigated. SP City Botre Pramod Rohan reached the spot and inspected the spot.


www.amarujala.com