Kapil Sharma's new show is coming on 'Netflix', which is named 'I Am Not Done Yet'. In this, he has narrated his ordeal about the controversial tweet to PM Narendra Modi in 2016. Referring to the whole incident, he said that after that tweet, he had to hide in the Maldives, where 9 lakhs were spent, which was never done in his education.
Kapil lost his senses by putting a peg
Kapil told that he was going through depression during that time. He told his friends about this, then they said that there is no such thing as depression. Along with this, friends gave advice to put two or four pegs. Kapil further said, 'Since morning my mood was going bad. Couldn't understand what to do. Then I put two pegs. And started counting the shortcomings inside himself. Then by putting four pegs, he began to remove the shortcomings of his cook that he is feeding me brinjal, drinking my Old Monk. When I put six pegs, I started finding faults in the surrounding society that roads are not built here, water stagnates there, that work did not happen, this work did not happen. Kapil further said that when he put 8 pegs, his mind went towards the problems of the national level. The whole world saw what happened after that. I will not take names but he is the Prime Minister of the country. So I tweeted that for him. And not one or two tweets have been made.

Kapil felt sorry when he woke up in the morning
Kapil said that the level of his frustration had increased so much that his attention shifted directly from the issues of the society to the issues of the country. He further said, 'I fell asleep after patching and tweeting. And when I woke up in the morning and removed the curtain of the window, I saw that OB vans were installed outside. Then I asked my cook why all this here, then he told that because of the tweet you had tweeted last night. I told the cook why he didn't stop me, then he told that he himself is sitting by retweeting.
Maldives arrived after hearing the taunts
Kapil said that after this tweet he got to hear a lot. Due to which he fled to Maldives. Going there, he asked the hotelier to give him a room where there is no internet. 'I stayed there for 8-9 days. And I spent 9 lakh rupees. I did not spend so much in my life's education. As much as I got it done by writing one line. I want to do the case on Twitter. Because some politicians write under the tweet that Manipulated Tweet, they would also write under my tweet, Drunk Tweet, Just Ignore Him. This would have saved my money. Kapil says that if he has talked about anything in the night, then end it by talking about it in the night itself. Because in the morning their ideology becomes different. Well, now let us tell you what Kapil had said five years ago, after which he was bulllisted.

What happened five years ago?
Kapil had raised questions on PM Modi's acche din by tweeting. He had written, 'I am paying Rs 15 crore income tax for the last five years but still I have to pay Rs 5 lakh as bribe to BMC to get my office built. These are your 'achche din' PM Narendra Modi?'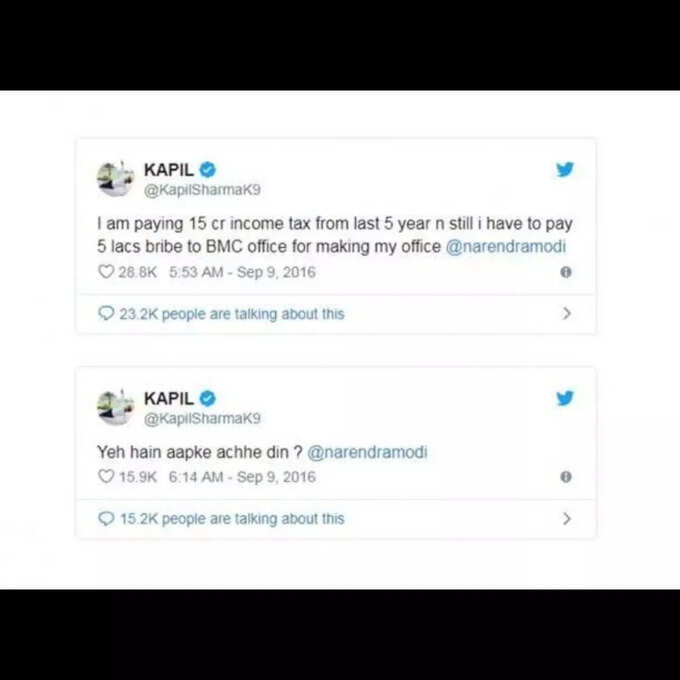 Please tell that Kapil did this tweet on September 9, 2016 at 5.53 and 6.14 am. After that all this ruckus happened.

After Shahnaz, Yash Raj Mukhte made a wonderful video on Kapil Sharma, the twist of 'I Am Not Done Yet'

Afraid of the underworld, Kapil Sharma hid money in his underwear, told 7 funny stories and said – I'm Not Done Yet

TKSS: On Akshay Kumar and Taapsee appearing on the show again and again, Kiku Sharda said – why don't we buy?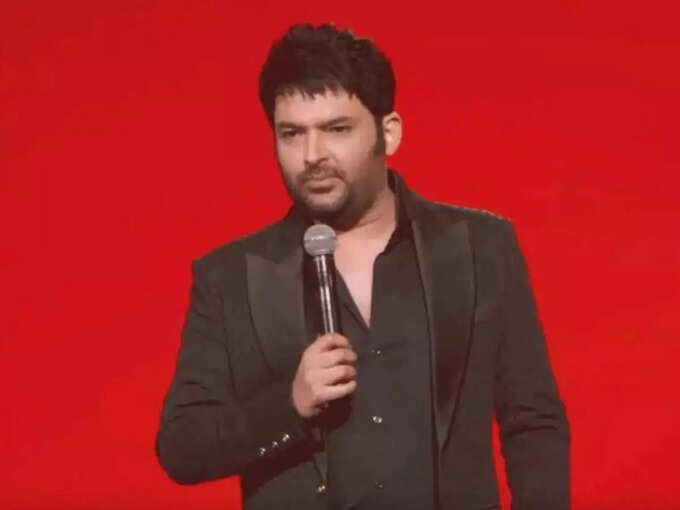 navbharattimes.indiatimes.com