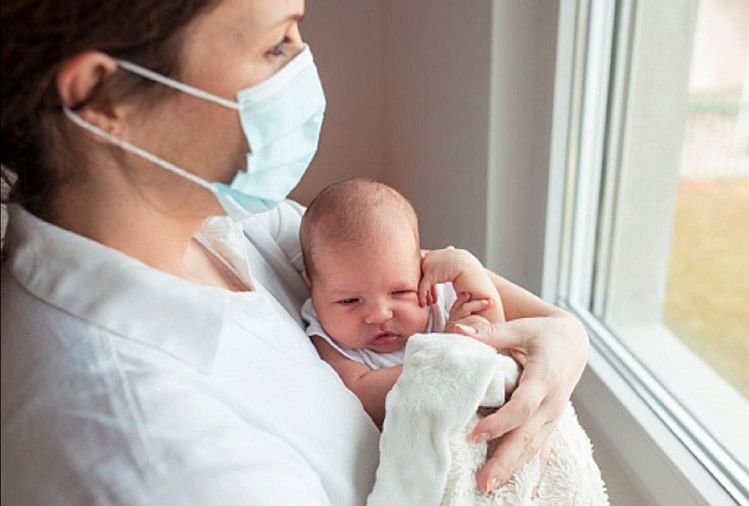 India News
Study Report Coronavirus Reached From Infected Mother In Six Percent Of Newborns
On June 15, 2021 by admin
Detailed
So far, many cases of corona virus have been reported in pregnant women. Also, in most cases newborns have been found to be corona negative, but scientists in Maharashtra have now revealed that at least six percent of newborns have got corona virus from infected mothers. The risk of developing sepsis in these babies was found to be 4.09 percent. While the possibility of death of more than four percent has also been seen.
The government has started the National Registry to know the maximum effects of corona virus in pregnant women. Here information will be collected from hospitals across the country on which the study of scientists will start. According to the information, the start of this registry will help scientists not only to understand the effect of the virus in pregnancy but also about the social, demographic, clinical and reproductive characteristics of postpartum women.
The National Registry has been named Pregcovid in collaboration with ICMR and will be managed by a team of National Institute for Research in Reproductive Health, Department of Medical Education and Drugs, Government of Maharashtra and Topiwala National Medical College.
Apart from these, the team of BYL Nair Charitable Hospital, Mumbai will also cooperate. Here all government agencies and hospitals across the country will provide information related to pregnant women. Till now, there is a national level registry program for cancer disease in the country. A senior official of ICMR based in New Delhi said that all the medical papers of pregnant women who have been infected with corona infection throughout the last year will be shared here. Along with this, the hospitals where pregnant women have died due to infection will also be reviewed by scientific and expert doctors.
what the study says

According to the study published in the Journal of Tropical Pediatrics two days ago, 524 babies born in Mumbai between 14 April and 31 July 2020 contracted the infection through contact with their mothers. During this, it was found that 6.3 percent of newborn babies were spread from corona infected pregnant women. When compared with non-infected babies, it was found that there was no change in the weight of infected children, maturity in the womb, but sepsis spread in 4.09 percent of the children. In non-infected babies, it was seen only 0.003 percent. In this study, 13 newborns died, out of which three (nine per cent) children were corona infected. Whereas in non-infected children, the mortality rate was recorded only three percent.

Will see the effect of the first wave of Corona

According to the information, first of all the effect of the first wave of corona infection that came last year will be seen on pregnant women. For this, emphasis is being laid on the study of Maharashtra in the registry. The cases from January 1 to May 31 last year will be taken up here. Along with this, medical papers will also be seen regarding the deaths till June 2020. A target of about two thousand such cases has been set. The time frame for completing this study has not yet been set.
Breastfeeding is also the lowest among infected babies

According to Dr. Rahul Gajbhiye, during the study regarding breastfeeding, the situation has been found to be very bad in both the group of infected and non-infected babies. In non-infected children, this rate was found to be 2.7 percent while in infected infants it was found to be up to 12.1%. This suggests that the infected babies are most likely to have problems with breastfeeding after birth.
You will get accurate information on these facts
incidence of covid-19 in pregnancy
Socio-demographic, epidemiological and clinical characteristics of pregnant women with COVID-19
Outcomes of pregnancy in women with COVID-19
Neonatal Outcomes in Women with COVID-19
response to treatment
Modes of transmission of Kovid-19 from mother to child

www.amarujala.com