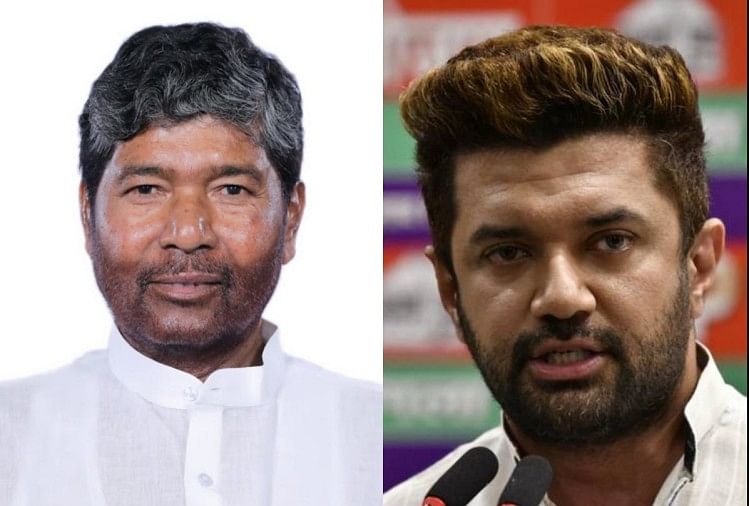 India News
Bihar Politics Ljp Conflict Chirag Paswan Press Conference Pashupati Paras Updates – The fight for occupation intensifies in LJP: Chirag also wrote a letter to the Lok Sabha Speaker, protest at Pashupati Paras's house
On June 15, 2021 by admin
News Desk, Amar Ujala, New Delhi
Published by: Prashant Kumar
Updated Wed, 16 Jun 2021 02:19 PM IST
abstract
Political upheaval continues in Bihar's politics. For the last three days, the battle of uncle vs nephew is increasing in LJP. While Pashupati Paras is accusing the party of dictatorship, Chirag Paswan is accusing his uncle of breaking the party.
Pashupati Paras, Chirag Paswan
– Photo : Amar Ujala
Detailed
In Bihar, the battle to take over the Lok Janshakti Party (LJP) has intensified. The battle for supremacy between uncle and nephew for three days has now reached the streets. Chirag supporters are protesting outside Pashupati Paras's house in Delhi, while Pashupati Paras is accusing the party of dictatorship. Pashupati Paras says that the rule of one post and one constitution was going on in the party from the beginning, but for some time there was an atmosphere of dictatorship in the party. So he has taken this decision. According to information received from sources, Chirag Paswan's press conference was about to take place, but due to some reasons the press conference has been canceled. After the cancellation of the press conference, Chirag Paswan has written a letter to the Lok Sabha Speaker.
LJP leader Chirag Paswan writes to LS Speaker Om Birla, stating "the decision of announcing Pashupati Kumar Paras as Leader of LJP in Lok Sabha is contrary to provision of Constitution of our party."

He requests Speaker to issue new circular in his favour as

Leader of LJP in LS pic.twitter.com/BRm6i5cm5m

– ANI (@ANI) June 16, 2021
Chirag supporters demonstrated outside the house of uncle Pashupati Paras

Actually, LJP seems to be split into two factions. The political discord that started last week is getting worse. First Ram Vilas Paswan's brother Pashupati Paras, along with five MPs, took control of the party and ousted Chirag Paswan from the post of national president. Then Chirag Paswan expelled the five MPs from the party. The ongoing tussle in the LJP is now increasing, as Chirag Paswan's supporters demonstrated outside the residence of Pashupati Paras in Delhi on Wednesday.
Pashupati Paras became the new president of LJP

It is worth noting that since last Sunday evening, internal strife had started in the party. On Monday, in the absence of Chirag Paswan, the five MPs called a meeting of the Parliamentary Board and elected Hajipur MP Pashupati Paras as the new President of the Parliamentary Board. This information was also given to the Lok Sabha Speaker, the next day he also got recognition from the Lok Sabha Secretariat.



www.amarujala.com