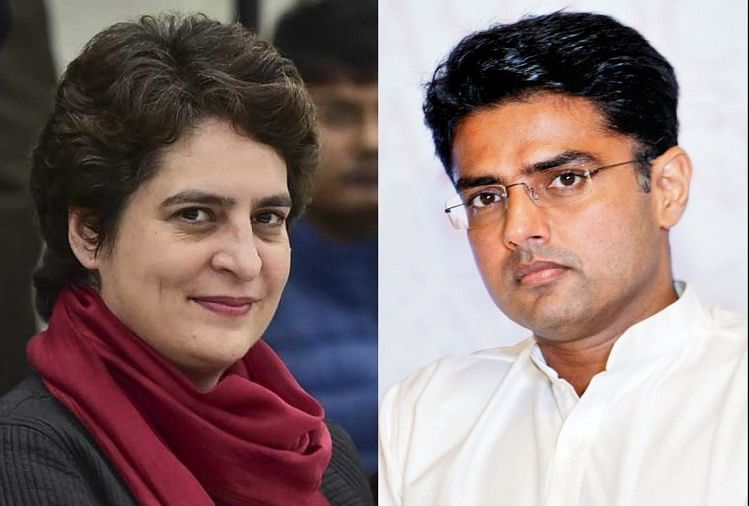 India News
Priyanka Gandhi Phone Call To Sachin Pilot
On June 11, 2021 by admin
News Desk, Amar Ujala, New Delhi
Published by: Prashant Kumar
Updated Fri, 11 Jun 2021 09:57 AM IS
abstract
Today is the death anniversary of Rajesh Pilot, father of former Rajasthan Deputy Chief Minister Sachin Pilot. Tributes are being paid to him by the leaders. There is also speculation about Sachin Pilot leaving the Congress. Priyanka Gandhi spoke to him on the phone.
Priyanka Gandhi and Sachin Pilot (file photo))
– Photo : Amar Ujala
Detailed
Former Deputy Chief Minister of Rajasthan Sachin Pilot intensified political activity in the state by holding a meeting with the MLAs of his faction on Thursday. This is because in the past, senior Congress leader Jitin Prasada joined the BJP. After that speculation intensified that Sachin Pilot may also say goodbye to the Congress. However, no statement has been issued by Sachin Pilot and his supporters. It is being told that former Deputy Chief Minister Sachin Pilot is angry about the report of the Conciliation Committee. The Congress high command has tried to persuade Sachin Pilot, in this episode, Congress General Secretary Priyanka Gandhi called and talked to him late on Thursday night. Apart from this, many senior Congress leaders are also trying to persuade him.
According to media reports, Sachin Pilot can reach Delhi on Friday. Earlier, he reached Dausa to pay homage to his father (Rajesh Pilot) on his death anniversary. On Thursday, a meeting of about half a dozen MLAs was called in Jaipur under the leadership of Sachin Pilot.
Hemaram Chaudhary will meet the Speaker of the Assembly today

It is being told that there has been a long-standing difference of opinion between Chief Minister Ashok Gehlot and former Deputy Chief Minister Sachin Pilot regarding the reconciliation committee, but it is slowly coming to the fore now. At the same time, MLA Hemaram Chaudhary, who resigned from the Sachin Pilot faction, will also meet Speaker CP Joshi today. Speaker CP Joshi had said that a decision on accepting the resignation would be taken only after getting a personal meeting.
MLAs of Sachin faction have not been included in the cabinet yet

Significantly, the participation of Sachin Pilot in the state government and the induction of his MLAs in the cabinet was promised, but has not been included yet. Chief Minister Ashok Gehlot and Sachin Pilot are once again face to face regarding this.

www.amarujala.com