India News
Nusrat Jahan Nikhil Jain Statement: Nusrat Jahan Husband Nikhil Jain Shocking Revelations, Alleges She Rejected the idea to Register Marriage, Read Nikhil Jain Statement
On June 11, 2021 by admin
Now a new twist has come in the controversy regarding the marriage of actress and Trinamool Congress MP Nusrat Jahan. Nusrat Jahan declared her marriage with husband Nikhil Jain invalid and made serious allegations like taking away ancestral jewelry and all their money, while now Nikhil Jain also issued a statement to Nusrat. Sensational allegations have been made on Nikhil Jain has claimed that after marrying Nusrat Jahan in Turkey, he talked about registering marriage in India several times, but Nusrat refused every time. Not only this, Nikhil says that Nusrat had borrowed a huge amount from him to pay off the house loan, which he never returned. Along with this, Nikhil has also broken silence in gestures regarding Nusrat Jahan's affair.
Nikhil issued a statement and made serious disclosures
In his one-page statement, Nikhil has clarified on 9 different issues and has accused Nusrat. Nusrat Jahan announced on Wednesday that she is living separately from long-time husband Nikhil Jain amid news of her pregnancy. Not only this, Nusrat also said that in 2019 she was married according to the Turkish marriage law, this marriage is not registered in India, so it is not a valid marriage. Nusrat even said that she does not even need to get divorced from Nikhil Jain as it is not valid under the Indian Marriage Act.
'Nushrat's behavior changed with time'
Nikhil Jain has written in his statement, 'I proposed Nusrat for marriage, which she happily accepted and we had a destination wedding in Bordum, Turkey in June 2019. After this a reception party was also held in Kolkata. Nikhil claims that even after marriage, where he should be completely honest with Nusrat, Nusrat's behavior changed over time.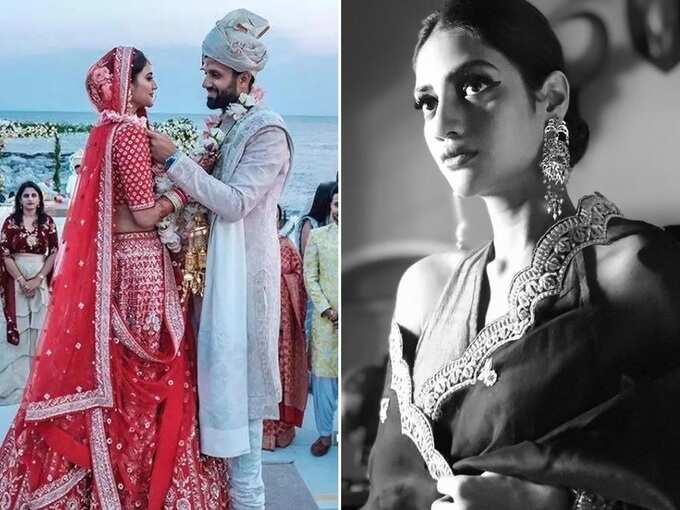 Nusrat's affair was also pointed
Nusrat Jahan's name is being associated with Yash Dasgupta, her co-star these days. The affair of both is very much discussed. Nikhil Jain has not named Yash in his statement, but he said, 'My wife's behavior towards me started changing in August 2020 during the shooting of a film. What are the reasons for this, she can tell better. Let us inform that during this time Nusrat Jahan and Yash Dasgupta were shooting for the film 'SOS Kolkata'. Yash is also in the world of politics now. He has been a BJP candidate in the last assembly elections.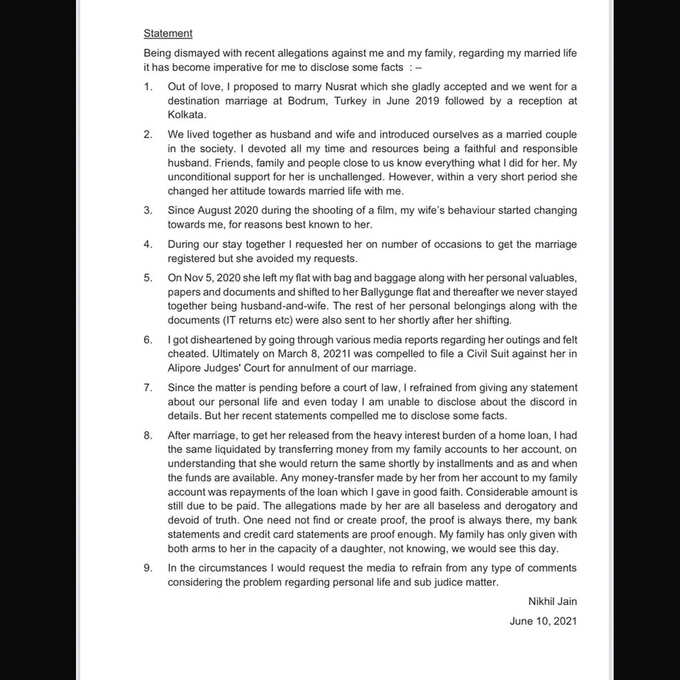 'Nusrat refused to register the marriage'
Nikhil further wrote in his statement, 'I talked to Nusrat many times to get our marriage registered legally in India, but she refused every time. In November 2020, she left my flat with all her belongings. She took away all her valuables, papers, documents and started living in her Ballygunge flat. Since then we have never lived together as husband and wife. Some of his papers like income tax return were at my flat, which was sent to him.

Nusrat Jahan broke ties with husband Nikhil Jain, said – marriage was done by Turkish law, not valid in India
Case filed in court for cancellation of marriage in March
In his statement, Nikhil Jain has further told that he was deeply hurt by all these incidents. At the same time, he started feeling cheated after the news of Nusrat's travels came to the fore. In such a situation, he finally filed a civil suit to annul the marriage in Alipore Judges Court on 8 March 2021. Nikhil says, 'Since this matter is in the court, I am not in favor of making any statement regarding my personal life. I still can't reveal many personal details of our relationship.

Nusrat Jahan deleted wedding photos from Instagram after separating from husband Nikhil Jain
'Nushrat took money to repay the home loan'
At the end of his statement, Nikhil Jain wrote for Nusrat Jahan, 'After marriage to relieve her from the burden of huge interest for home loan, I transferred money from my family bank accounts to her account. Whatever money has been transferred from his account to my family's accounts, it is the payment of the same debt. All the allegations leveled by him are baseless, outrageous and have no truth in them. One does not even need to find any proof in this regard, as all the evidence is already there in the form of my bank statement and credit card statement. My family accepted Nusrat as a daughter. We didn't know that we would ever have to see such days.

navbharattimes.indiatimes.com