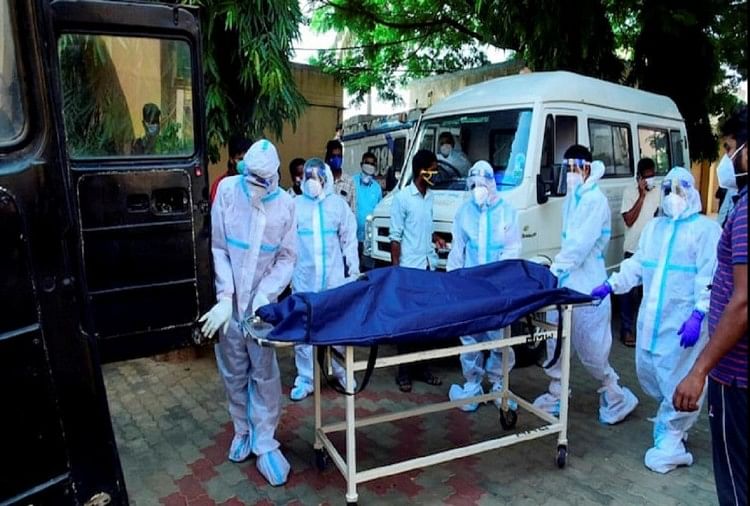 India News
Coronavirus Update News 68 Percent Infected In Five States Including Maharashtra Active Cases Less Than 12 Lakh
On June 10, 2021 by admin
On Thursday, 94,052 cases of infection have been found in the country amid the stagnation of corona virus. Of these, 68 percent cases have been found in Maharashtra, Tamil Nadu, Kerala, Karnataka and Andhra Pradesh. At the same time, 6,148 patients have lost their lives in the last one day, which is a record till now.
This jump in deaths has come due to juggling of figures by the Bihar government. These include the death of 3,951 patients from Bihar alone. However, 1,51,367 people have also been cured in a day. A decrease in the number of people undergoing treatment was recorded by 61,372. Now the number of active cases in the country has come down to less than 12 lakhs.
The Union Health Ministry said that for the 28th consecutive day, the number of people recovering more than new cases of corona virus. With this, the total number of patients has increased to 2,91,83,121, out of which 2,76,55,493 have become healthy so far. Even now there are 11,67,952 active cases in the country, which are being treated either at home or in hospitals. So far 3, 59,676 people have lost their lives in the country due to infection.
At present, the death rate of corona has increased from 1.20 to 1.22 percent. Seven days ago this rate was 1.16 per cent. However, the recovery rate is also more than 94 percent. This is directly affecting the active cases, due to which the active rate has come down to less than five percent. The ministry said that 20 lakh samples have been tested in a day, of which 4.69 percent have been found corona infected. If we talk about the weekly rate, then it is 5.43 percent. For the last 17 days, this rate has remained less than 10 percent.
Deaths had already happened, but now included in official papers
In fact, the Health Department of Bihar, while revising the number of deaths, said that 3,951 people have now received information about their deaths. These have now been included in the official papers. Due to this, the number of people who died of infection in Bihar so far has reached 9,429. However, the department has not clarified when these deaths occurred.
In fact, till June 7, the total death toll in the state was reported as 5,458, which has increased to 9,429 after adding 3,951 deaths. The Health Department says that many people died during isolation at home. Some died on the way from home to the hospital and many died after recovering from corona. After investigation, many such cases have been added.
Kerala-Bengal saved 2.5 lakh doses, Jharkhand wasted 34 percent
Health Ministry sources said that Kerala and West Bengal together have saved more than 2.5 lakh doses. Kerala saved 1.10 lakh and Bengal 1.61 lakh doses. At the same time, Jharkhand alone wasted 34 percent of the doses. Jharkhand is followed by Chhattisgarh with 15.79% in terms of vaccine wastage. Madhya Pradesh 7.35, Punjab 7.08, Delhi 3.95, Rajasthan 3.91, UP 3.78, Gujarat 3.63 and Maharashtra 3.59 percent wasted. In May, a total of 7.90 crore doses were supplied to the states, while 6.10 crore vaccinations took place. Vaccination in May was lower than in April. In April, 9.02 crore doses were used, of which 8.98 crore doses were given to the people.
Of those 45 or more, 38% of the population gets the first dose
So far, 38 per cent of the population over the age of 45 have received at least one dose. In Tripura this figure is up to 92 percent. Only 65-65 per cent in Rajasthan and Chhattisgarh, 53 in Gujarat, 51 in Kerala and 49 per cent in Delhi have been vaccinated. Tamil Nadu's first dose is low for those with a population over 45. So far, 19 per cent vaccination has been done in this age group, while in Jharkhand and Uttar Pradesh 24-24 and in Bihar it has been recorded up to 25 per cent.
UP: 10 times more investigation than WHO standard, 642 cases in a day
The UP government has claimed that 10 times more tests are being conducted in the state than the World Health Organization (WHO) standard, as a result of which the second wave of corona in the state has been completely controlled. According to the WHO standard, there was a target of 32 thousand tests per day in UP, but on an average more than 3 lakh tests have been done every day. At the same time, 642 new cases of corona have been found in the state in the last one day. At the same time, 1,231 people became healthy, while 82 infected people died. At present there are 12,243 active patients in the state.

www.amarujala.com