News Desk, Amar Ujala, New Delhi
Published by: Kumar Sambhav
Updated Tue, 01 Jun 2021 04:07 PM IST
abstract
Experts will discuss live on Amar Ujala's Facebook page and YouTube channel at 5 pm.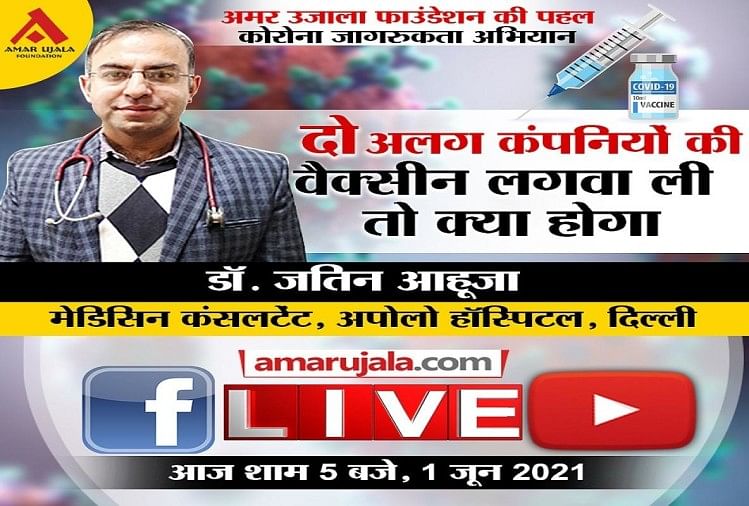 Corona vaccine will be discussed today
– Photo : Amar Ujala
Detailed
The whole country is battling the Corona pandemic. Millions of people are in the grip of this dreaded disease. Although vaccination is also going on very fast in the country under the war with Corona, but due to the large population, there is also a shortage of vaccine. Due to this, the central government is preparing to conduct mix and match trials. In such a situation, on the initiative of Amar Ujala Foundation, well-known experts will tell you what will happen if two different companies get the vaccine? Experts will discuss live on Amar Ujala's Facebook page and YouTube channel at 5 pm. Here you can ask your questions. You can also whatsapp us your questions. Our whatsapp number is 7982831570.
There will be live discussion on this topic
Questions related to corona vaccination will be discussed on June 1, i.e. today at 5 pm. During this, experts will tell that if a person gets the vaccine of two different companies, then what will be the effect on him? Experts will give a lot of information in this discussion on corona vaccination through the initiative of Amar Ujala Foundation. During this, Dr. Jatin Ahuja, Medicine Consultant, Apollo Hospital, Delhi will answer the questions of the readers.
Live discussion can be like this
Let us tell you that to know the answers to the questions related to corona vaccination, you just have to visit Amar Ujala's Facebook page (www.facebook.com/Amarujala/), Twitter handle (https://twitter.com/AmarUjalaNews/status/1395010298856177668) or YouTube. Must visit the channel (https://www.youtube.com/channel/UCP_wvXToU5ohFLbTAkatvsw). Here you will be able to meet experts every day at 5 pm through video and know their answers by asking your questions in the comment box. To get notifications of these videos, subscribe to our Facebook page and YouTube channel immediately, so that you do not miss this live discussion in any case. Also, you can also send your queries to us on WhatsApp number 7982831570.
Black fungus cases on the rise
Significantly, the second wave of epidemic corona virus in the country seems to be decreasing now. Although there has been a decrease in patients of corona infection, but the number of deaths due to Kovid is increasing concern. With the outbreak of the epidemic increasing, the health system in the country has collapsed. Apart from this, the ever-increasing cases of black fungus in many states of the country have increased the fear.
read ahead
There will be live discussion on this topic



www.amarujala.com