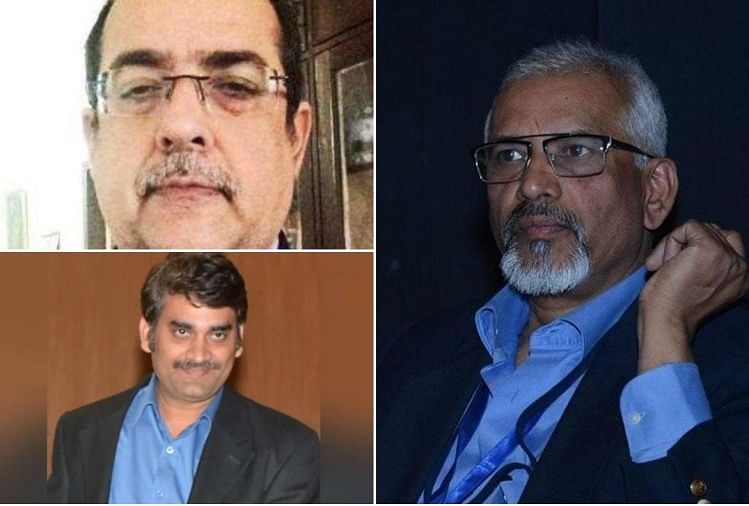 India News
Scientists Who Developed Coronavirus Medicine 2dg, Here Is All You Need To Know
On May 11, 2021 by admin
abstract
The news of a new drug has brought new hope for a country struggling with a second wave of Corona virus infection. The Drug Controller General of India (DCGI) has allowed the emergency use of this anti-Kovid drug developed by DRDO (Defense Research and Development Organization). The Ministry of Defense says that this drug helps corona patients recover quickly and also reduces their dependence on oxygen. Here we are going to tell you about the scientists who have developed this medicine.
Dr. Sudhir Chandna, Dr. Anant Narayan Bhatt and Dr. Anil Mishra.
– Photo: Amar Ujala
Detailed
The 2-DG (2-deoxy-D-glucose) drug has been approved at a time when India is engulfed by a second wave of corona virus epidemic and the country's health infrastructure is under tremendous pressure. The special thing is that this medicine comes in a packet in powder form, dissolving it in water and drinking it. Three scientists have been the brain behind the preparation of this medicine, which is considered a boon in times of crisis. These are Dr. Sudhir Chandna, Dr. Anant Narayan Bhatt and Dr. Anil Mishra.
Dr. Sudhir Chandna

Sudhir Chandna, a resident of Hisar, is an additional director in DRDO and has played a key role in the preparation of this drug. Chandna was born in Rampura near Hisar in October 1967. His father was employed in the Haryana Judicial Service. He did his BSc from DAV College, Chandigarh and MSc in Microbiology from Haryana Agricultural University. From 1991 to 1993, he served at the Institute of Nuclear Medicine and Allied Sciences in Gwalior and then Delhi.
Dr. Anant Narayan Bhatt

Hailing from Gorakhpur, Uttar Pradesh, Dr. Anant Narayan Bhatt is a Senior Scientist in Nuclear Medicine and Allied Sciences of DRDO. He did his early education at birthplace Gagaha and did his BSc from the Kisan PG College. He then did his MSc in Biochemistry from Avadh University. He completed his PhD in Drug Development (Drug Development) from CDRI Lucknow. He then joined DRDO as a scientist.
Dr. Anil Mishra

Originally hailing from Ballia district of Uttar Pradesh, Dr. Anil Mishra has been a post doctoral fellow at the University of California. He did his MSc from Gorakhpur University and completed his PhD from Banaras Hindu University. He is a scientist in the DRDO's Nuclear Medicine and Allied Sciences and is also serving in the cyclotron and radio pharmaceutical sciences division. From 2002 to 2003 he has also been a visiting professor at the prestigious Max Planck Institute in Germany.
Know about this medicine
The drug has been developed by DRDO's prestigious laboratory Institute of Nuclear Medicine and Allied Sciences (INMAS) in association with Dr. Reddy Laboratory, Hyderabad. According to a statement issued in this regard, a call was made by Prime Minister Narendra Modi to make preparations after the corona epidemic started in the beginning of last year, after which DRDO started work on this drug.
Regarding this medicine, the Ministry of Defense said, 'Due to the second wave of Kovid-19, a large number of patients are required to be oxygenated and hospitalized. This medicine is expected to save precious lives because it works on infected cells. It also reduces the duration of hospitalization of Kovid-19 patients.
"On May 1, DCGI approved the emergency use of this drug as an adjunct method to treat patients with moderate and severe symptoms of Kovid-19," the ministry said. Due to the conformity of normal molecules and glucose, it can be prepared and made available in large quantities in the country itself. ' The adjuvant method is the treatment that is used to help with the primary treatment.
The Ministry of Defense stated, 'DRDO's 2-DG drug accumulates in the virus-infected cell and inhibits the growth of the virus. Working selectively on a virus-infected cell is what makes this drug special. ' Regarding the effect of the drug, the ministry said that patients with symptoms treated with 2DG were cured before the standard treatment procedure (SOC).
The ministry said, "It took 2.5 days less than the average time for SOC to treat patients with the same criteria for treatment with this medication." According to the statement, according to the results of the medical examination, the hospitalized patients recovered quickly from this drug and their dependence on extra oxygen also decreased. Most of the patients undergoing treatment with 2DG came on negative in RT-Pacer examination. '
read ahead
Know about this medicine

www.amarujala.com