India News
Sonia gandhi on congress election setbacks: Sonia Gandhi said in cwc meeting, need to draw lessons from serious setbacks in polls, put house in order
On May 10, 2021 by admin
Highlights:
Congress leadership decides to form group in 48 hours at CWC meeting
The team will find the reason for the disappointing performance of Congress in the recent elections
Sonia said- It will be less to say that we are very disappointed
New Delhi
The Congress has decided to form a group within the next 48 hours to find out the reasons for the party's dismal performance in the assembly elections of four states and one union territory. On the other hand, party president Sonia Gandhi, expressing concern over the performance of the Congress in these elections, said on Monday that it is clear from these results that things will have to be rectified in the Congress.
He proposed in a digital meeting of the Congress Working Committee (CWC) that a group be formed to find out the reasons for the electoral defeat. The Congress general secretary later said that the group would be formed within the next 48 hours and it would submit its report as soon as possible.

CWC Congress President Election News: This time due to Corona epidemic, election of Congress President postponed
In response to a question, Venugopal also said, "Based on the report of this group, further steps will be taken and accountability will be fixed." Congress's chief spokesperson Randeep Surjewala said that in the CWC meeting, the in-charge of Assam, Kerala, West Bengal, Tamil Nadu and Puducherry spoke on the 'deficiencies' and other points in the election.
Earlier, Sonia said in the meeting, 'We need to take cognizance of these serious tremors. It would be less to say that we are very disappointed. My intention is to form a small group to look into every aspect that has been caused by these tremors, and report should be taken very soon from it. '
Why did not our account even open in Bengal?
He said, 'We have to understand why we have not failed to remove the existing governments in Kerala and Assam and why we have not even opened our account in Bengal? There will be some uncomfortable lessons of these questions, but if we do not face the reality, if we do not look at the facts correctly, we will not take the right lesson.

BJP leaders apologize for false allegations: Congress
Sonia said, "When we met on January 22, we had decided that the election of the President of Congress would be completed by the middle of June. Election Authority chief Madhusudan Mistry has set the election schedule. Venugopal Kovid will read it after discussing 19 more election results.
Mumbai's youth helped in the corona epidemic
He emphasized, 'These election results clearly show that we have to fix our things.'
The Congress, which was trying to regain power in Assam and Kerala, had to face defeat. At the same time, his account could not even be opened in West Bengal. She suffered a crushing defeat in Puducherry where she was in power until a few months ago. It was a relief for him in Tamil Nadu that his DMK-led alliance won.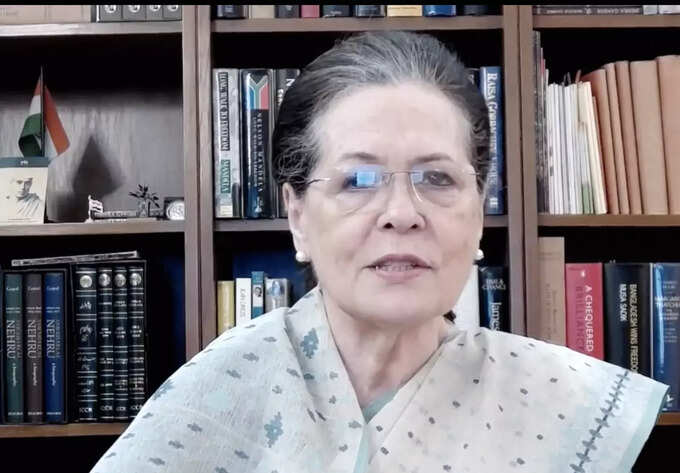 navbharattimes.indiatimes.com