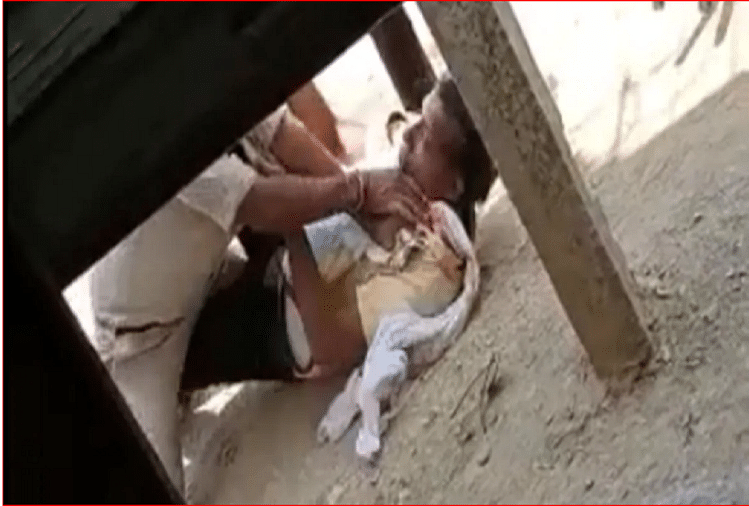 India News
Policeman beat up a man with kick and punches amid lockdown violation in Shahdol
On May 10, 2021 by admin
News Desk, Amar Ujala, Shahdol
Published by: Tanuja yadav
Updated Mon, 10 May 2021 09:46 AM IST
abstract
In Shahdol, Madhya Pradesh, a man was beaten with kicking punches for violating the lockdown. Not only this, an attempt was also made to drag him by pressing the pot in the neck.
Police beat up man for violating lockdown
– Photo: Social Media
Detailed
The country has a lockdown in many parts to prevent the corona virus. During the lockdown, the police has been deployed by the administration to not violate the rules and strictly follow them, but if the lockdown rule is violated, then it is appropriate to kill someone with kicking.
A heart-wrenching video has emerged from Shahdol in Madhya Pradesh, in which a policeman is seen beating a man with kicking punches, not only that the policeman tries to drag him by strangling the person with a skull. The person is accused of breaking the lockdown rules.
Actually, this case is related to the Papundh police station area of ​​Shahdol district. This video is being told that it is four to five days old, in this video the policeman is seen beating the person. During this time the victim kept asking for help but people kept watching as mute spectators.
After this incident, the man reached the SP office after traveling several kilometers to complain about the vandalism of the police and started pleading for help from the authorities. Please tell that the name of the person is Satyendra Kumar Dwivedi and he was going to the procurement center with wheat, along with his sick buffalo medicine.
At the same time, a head constable attacked Satyendra asking the reason for his exit during the lockdown. The policeman hit the man with kick and punches and tried to strangle him by strangling him. Meanwhile, the man kept asking for help, but no one saved him. In this case, the police say that Satyendra was violating the lockdown and started defaming the police on the refusal. Action was taken against Satyendra under section 151. Let me tell you that there are already dozens of cases against Satyendra, many of which are also serious cases.

www.amarujala.com