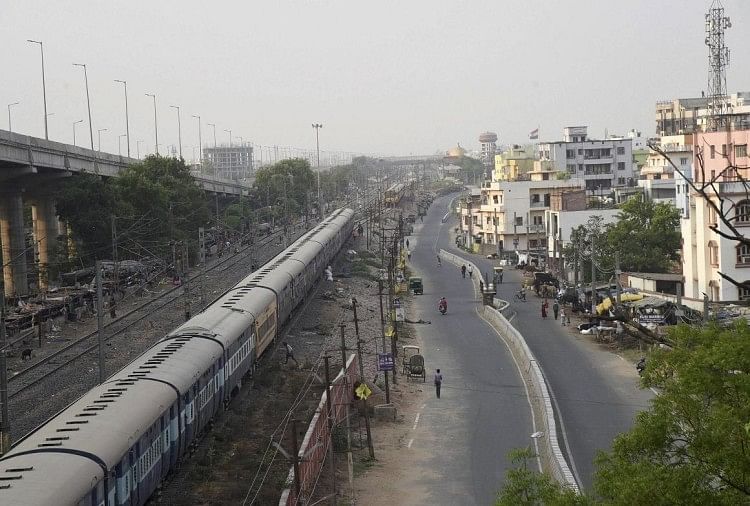 India News
Lockdown period extended in Delhi-up, Haryana, effective from today in Tamil Nadu, Rajasthan, Mizoram – Lockdown: lockdown in these states of the country from today, know what will be closed, who gets exemption
On May 10, 2021 by admin
On Sunday, the lockdown and corona curfew in Delhi, Haryana and Uttar Pradesh were extended till May 17. At the same time, strict restrictions are in place in large parts of the country. The two-week lockdown will begin in Tamil Nadu, Rajasthan and Puducherry from Monday, while the lockdown-like ban in Karnataka will remain in effect until May 24. In Kerala too, full lockdown has been imposed for nine days from Saturday.
The Mizoram government in the Northeast has implemented full lockdown for seven days from Monday while the lockdown-like ban in Sikkim will remain in effect till May 16. The Uttarakhand government has decided to impose tougher Kovid curfew from 11 May to 18 May.
Metro service closed in Delhi
Announcing the extension of the lockdown, Delhi Chief Minister Arvind Kejriwal said that although cases of Kovid-19 and infection rates have come down in the last few days, any laxity in the current wave of epidemics has been achieved so far Will eliminate During this time, metro train services will remain suspended and marriage ceremonies will be banned in public places.
In Uttar Pradesh, curfew was to end at 7 am on Monday. Navneet Sehgal, Additional Chief Secretary, Information Department of Uttar Pradesh, said that the Corona curfew implemented in the state has brought positive results and has helped in breaking the link of infection. Covid-19 cases have decreased. In view of this, it has now been decided to increase the curfew till 7 am on May 17.
71 percent cases in 10 states
Haryana Health Minister Anil Vij announced to increase the lockdown and said that strict steps will be taken to prevent the spread of infection in the state. The Union Health Ministry on Sunday said that Maharashtra, Karnataka and Delhi are among the 10 states where 71.75 percent of the 4,03,738 cases reported on Sunday are patients.
Other states included in the list of these 10 states are Kerala, Tamil Nadu, Uttar Pradesh, Andhra Pradesh, West Bengal, Rajasthan and Haryana. The ministry said that Maharashtra has the highest number of confirmed 56,578 new patients followed by Karnataka with 47,563 cases and Kerala with 41,971 cases.
The number of under-treated patients in India has increased to 37,36,648, which is 16.76 percent of the total infected. The ministry said that 82.94 percent of the country has undergone infection in Maharashtra, Karnataka, Kerala, Tamil Nadu, Uttar Pradesh, Rajasthan, Andhra Pradesh, Gujarat, Chhattisgarh, West Bengal, Haryana, Bihar, Madhya Pradesh.
In addition, there have been 4,092 deaths in the last 24 hours. Of these, 74.93 percent patients have died in 10 states. Maharashtra has the highest number of 864 people killed. After this, 482 people have died in Karnataka.
Restrictions applicable in States and Union Territories

www.amarujala.com