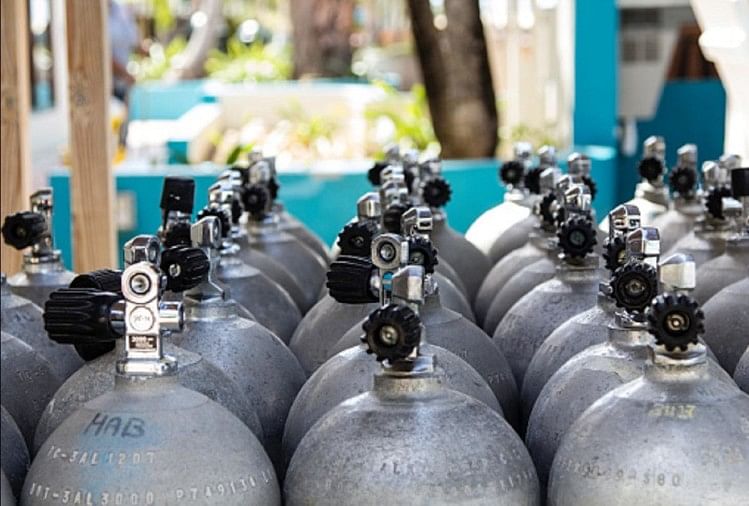 India News
Medical Oxygen Tanker Lost, 400 Patients In Andhra Pradesh Breathlessness – Negligence: Medical Oxygen Tanker Lost, Crisis On Breath of 400 Patients in Andhra Pradesh
On May 9, 2021 by admin
Agency, New Delhi
Published by: Kuldeep Singh |
Updated Sun, 09 May 2021 07:49 AM IST
Detailed
The crisis of medical oxygen in the country is overshadowing the lives of patients. The tanker, carrying 18 tonnes of medical oxygen from Odisha to the Government General Hospital of Vijayawada in Andhra Pradesh, went missing late on Thursday.
Challenge: Patients at risk due to oxygen crisis in the country

If the tanker did not reach the hospital on time, 400 patients admitted on oxygen support lost their lives. The police also could not trace the tanker. Police Commissioner B Srinivasulu from Vijayawada ordered all the Superintendents of Police of the area to search for the tanker. When the police team started investigating all the routes, the tanker loaded with medical oxygen was standing on a dhaba in East Godavari district.
Police inquiries have revealed that the driver of the tanker had made several trips for medical oxygen. Due to fatigue, he had parked the tanker dhaba. Police reached the spot and reached the hospital in time from the Green Channel. According to the information received from the hospital, if the tanker is not found in the morning, then there could have been a catastrophe in the hospital. Police said, along with the tanker going for medical oxygen, some home guards will also be there. The advantage of this will be that the police and administration will be in constant contact with them and will help in delivering oxygen on time. Such a delay can endanger the lives of hundreds of patients at any given time.
Only half the oxygen

Andhra Pradesh has demanded one thousand metric tons of oxygen from the central government. At the same time, the Center is giving him only five hundred metric tons of oxygen. According to a Health Department official, the state government has also demanded 69 cryogenic tankers from the center to supply oxygen to the state. But there is no success in this. Officials say that the situation will deteriorate due to the increase in active cases.

www.amarujala.com