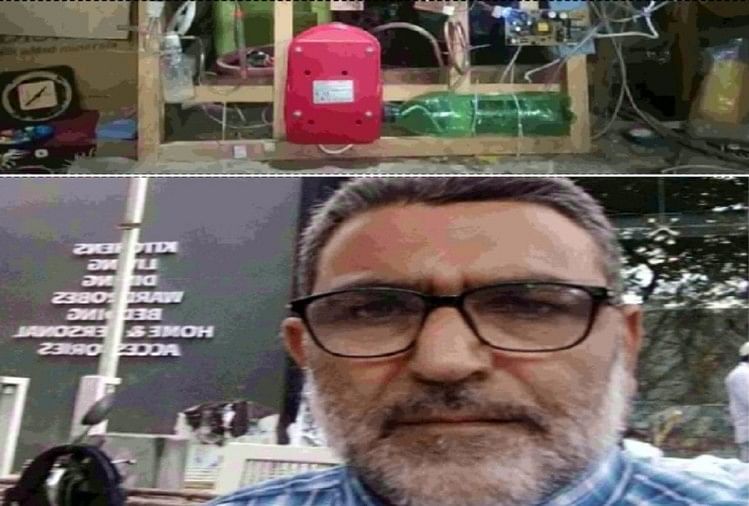 India News
Jammu Kashmir News: A Sixty-Year Old Man Prepared A Prototype Of An Oxygen Concentrator – #ladengecoronase: A 60-Year Elder In Kashmir Valley Prepares A Prototype Of Oxygen Concentrator
On May 9, 2021 by admin
Amritpal Singh Bali, Srinagar
Published by: Dushyant Sharma
Updated Mon, 10 May 2021 04:13 AM IST
Prototype of Oxygen Concentrator and Ismail Mir …
– Photo: amar ujala
Detailed
During the Corona epidemic across the country, many warriors have appeared in this battle who are contributing. One such warrior is from the border district of Bandipora in Kashmir. Mohammad Ismail Mir is 60 years old, but has a strong spirit and due to this perseverance, he has today succeeded in preparing a prototype of the oxygen concentrator. They want a company to come forward and help save lives by creating affordable contractors.
Mohammad Ismail said that since Corona started, he has been making something or the other. He first created a prototype of the Disinfect Tunnel on 28 March 2020, followed by a touchless sanitizing machine and then a ventilator. Mir said that now there is a cry for oxygen, oxygen concentrators are being sold in the market for one to one and a half lakh rupees. In such a situation, he decided to build an oxygen concentrator and prepared a successful prototype.
He said that even though it is a prototype, it is completing the work. Compressor, cooling coil, reservoir, 6 solenide valves, electronic circuit zeolite have been used to make this. Mir said that the most important role is that of zeolite, which blocks the impure gases.
The specialty of this concentrator is that it can be prepared in less than 15 thousand. Mir said that during the time of this epidemic, where it is being imported from countries like China, a company should come forward and make indigenous oxygen concentrator based on this prototype.
12th pass surprised by Mir innovation

Mohammad Ismail Mir hails from Vatpora village in Bandipora and is only 12th pass. But from the beginning, he has surprised everyone with his innovation. Due to this, he also had to leave his ITI. Mir said that he used to question his teacher so much that the matter would have reached the narrator. They were thrown out of class. In such a situation, he left his ITI studies in the middle.

www.amarujala.com