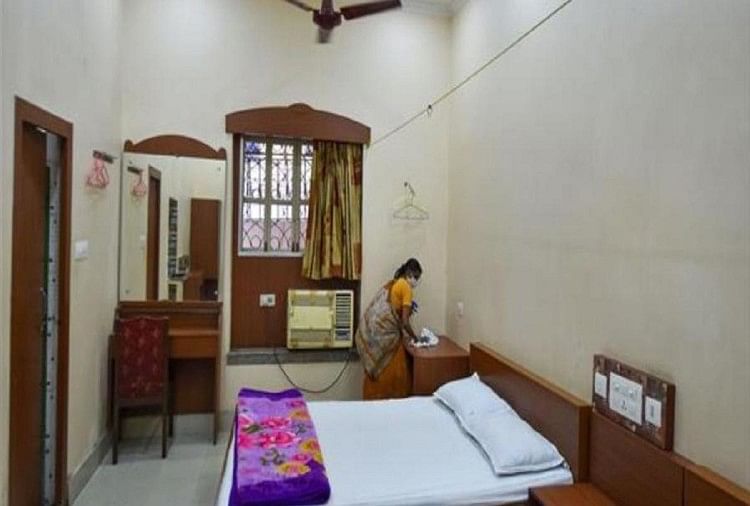 India News
Dr Manoj Kumar Mishra Positive In Both Corona Waves In Gorakhpur – #ladengecoronase: positive in both corona waves, treated at home negative
On May 9, 2021 by admin
abstract
Both doses of the vaccine were administered, not much trouble, being in home isolation defeated Corona, Dr. Manoj engaged in the service of the patients.
Beat the epidemic by staying in home isolation.
– Photo: PTI
Detailed
Dr. Manoj Kumar Mishra of Gorakhpur got infected in both the waves of Corona and defeated the epidemic by staying in home isolation. Once again, they have started serving the Kovid patients. They did not have to go to the hospital nor did they have to make long queues for oxygen. Dr. Manoj Charaganwa is the Medical Officer of the Rapid Response Team (RRT) of the block. He had administered both doses of the vaccine, so he did not have much trouble.
In the last week of August last year, Dr. Manoj got fever. Even after taking fever medicine for a day or two, when the condition did not improve, he got a Kovid test done. On 31st of August, the infection was confirmed in the investigation report. Apart from body aches, he also felt the problem of breathlessness. Oxygen level was above 90 and there was only chest pain, so Dr. Manoj opted for home isolation.
On 15 September 2020, his Corona report came back negative. As soon as the vaccination started, Dr. Manoj, having suffered the corona, went ahead and got the vaccine for Kovid. Completed both doses of the vaccine by March 2021. He says that after taking both of the vaccine doses, he gained a lot of confidence.
Attention paid to catering and sleep
However, due to some lapse, he came back to Corona on 14 April 2021. The antigen report came back positive, but this time there was no breathing problem. There was chest pain and fever. He once again opted for home isolation due to Kovid's experience and belief in vaccination. Vigilantly treated at home and recovered.
Dr. Mishra told that during home isolation he used to consume decoction and fruits like papaya, orange and pear in the morning. In the afternoon consumed green salad with lentils, roti and vegetable. Slept well for two to three hours a day. He did yoga and pranayam in the morning and evening. Turmeric used to consume milk at night.
Apart from this, the drug was consumed on time and oxygen levels were always checked. Atmabhala was never allowed to be weakened and believed that he had taken both the vaccine doses and that he would definitely recover. In this way, his antigen report became negative on 22 April. His RTPCR report also came negative on 24 April.
read ahead
Attention paid to catering and sleep

www.amarujala.com