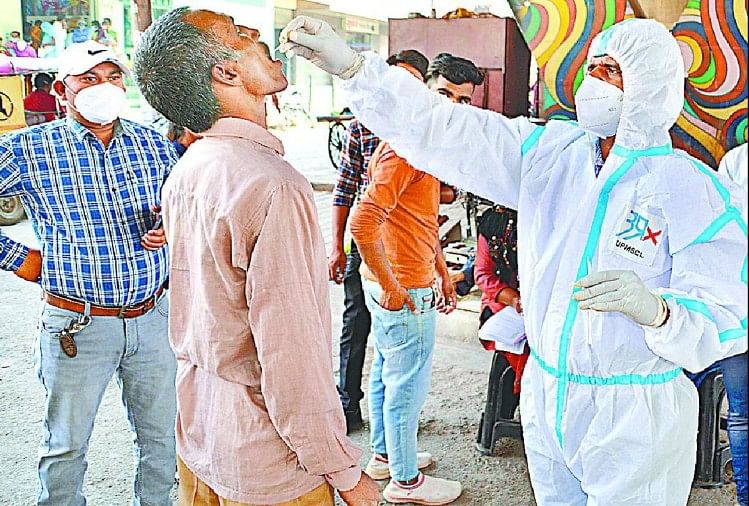 India News
Coronavirus India Updates Today, Corona Test Figures Exceed 30 Crore, Infection Rate Also Reaches 7.29 Percent – Corona's havoc: test figures cross 30 crores, infection rate also reaches 7.29 percent
On May 9, 2021 by admin
Corona virus investigation has crossed the 300 million mark, but due to this, from the beginning till now, the rate of infection has reached 7.29 percent, which was less than six percent last year.
On Saturday, the Union Health Ministry said that in the last one day, except for Dadar Nagar Haveli, Mizoram and Andaman Nicobar, at least one patient has been reported dead in 33 states.
However, due to the rise in new cases, the death rate is still 1.09 percent. The recovery rate is 81.90 percent. So far 1.79 crore patients have become healthy in the country. While the total number of infected patients has reached 2.18 crore. The ministry said that 78282 active cases have increased in the last one day after which their number has gone up to 37,23,446 who are undergoing treatment in hospitals and homes.
Actually, in every case of Corona, India is now leaving behind all the countries of the world. The United States and Brazil were far ahead on newly infected cases, deaths and infection rates, but now India has left these two countries behind. In the last 10 days, the highest number of deaths due to corona in India is 36110.
So far, 2,38,270 people have lost their lives due to Corona virus in the country. However, the non-official figure is far more than this. According to the Indian Council of Medical Research (ICMR), more than 18 lakh samples have been examined in the last one day. So far, the total number of investigations has crossed 300 million. While the number of labs has increased to 2514.

Transition rate over 24 percent in 24 states

The infection rate is more than 15 percent in 24 states and union territories. Among them, Goa has the highest infection rate of 48.5 per cent, that is, almost every other person is being found infected. 24 states and union territories, including Maharashtra, Karnataka, Haryana and Bengal, have corona infection rates of over 15 per cent, while nine states have an infection rate of five to 15 per cent. The rate of infection in the three states is less than five percent.
Most active cases in 12 states

There are more than one lakh active cases in 12 states. Whereas, there are between 50 thousand and one lakh active cases in seven states. By the way, if we talk about the whole country, the number of active cases has crossed 37 lakhs.
The situation is serious in 15 states in terms of population

According to the Ministry of Health, when compared to corona cases in terms of population, 15,864 out of 10 lakh people have been infected in the country. This figure has reached 71 thousand in 15 states. While 21 states have at least 4545 people corona infected with a population of 10 lakh. This is the lowest figure in Bihar, where reports of people dying every day due to negligence and lack of treatment are coming out in continuous investigation.

www.amarujala.com