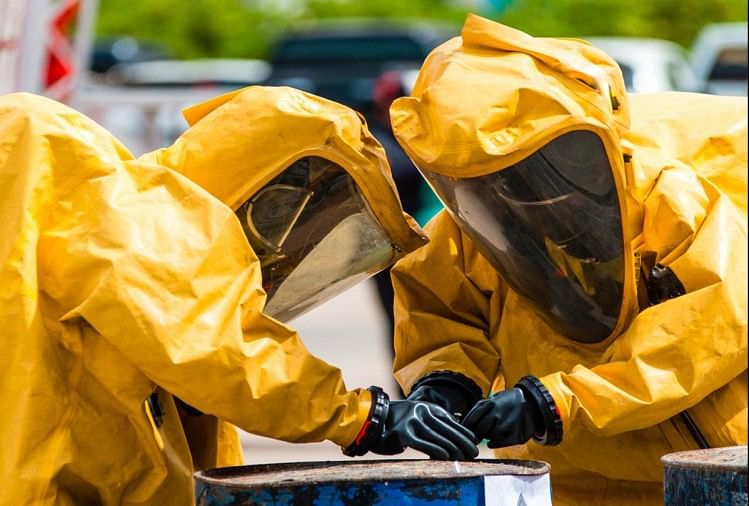 India News
Chinese Scientists Discussed Weaponising Sars Coronaviruses 5 Years Before Covid Pandemic: Report – Crooked Trick: Is China's Corona Virus a Corona Virus? Been doing research since 2015
On May 9, 2021 by admin
abstract
China has been under suspicion since the beginning of the Corona virus. However, till this time no source of this virus was used as a biological weapon from any source.
Biological weapon (symbolic photo)
– Photo: iStock
Detailed
Australian media has claimed in a report that China had been researching the Corona virus since 2015. Not only that, China's intention was to use it as a biological weapon.
China has been under suspicion since the beginning of the Corona virus. However, till this time no source of this virus was used as a biological weapon from any source. 'The Weekend Australian' has revealed this in its report about China. The report has formed the basis of a research paper in China. It said that China had been trying to make biological weapons with the help of SARS virus since 2015, six years ago. The Chinese military had been plotting to use the Kovid-19 virus as a biological weapon since 2015.
Third world war will be fought with biological weapons

In the research paper 'Sars and the unnatural origin of other man-made virus species as biological weapons', it has been claimed that the Third World War will be fought with biological weapons. This document also reveals that Chinese military scientists had already considered using the SARS corona virus as a weapon five years earlier. This report of 'The Weekend Australian' news.com.au. Has been published in According to the report, Chinese military scientists had also discussed how it can be turned into an epidemic by manipulating the SARS virus.
This research paper is almost like proof: Peter Jennings

Peter Jennings, executive director of the Australian 'Strategic Policy Institute (ASPI), told News.com.com that the research paper was in a way a firm proof. This is important, as it clearly shows that Chinese scientists were thinking about the military use of various stains of the corona virus. They were also wondering how this could be spread.
Bat cannot spread virus
The report also questioned that China retreats when it comes to investigating the virus. Australian cyber security expert Robert Potter said that the corona virus cannot spread from a bats market. This story is completely wrong. After studying Chinese research paper, he said that that research paper is absolutely right.
Why not interested in China investigation?
Jennings also said that this research also makes it clear why China is not interested in investigating the origins of Kovid-19 from outside agencies. If it was a case of spreading from a market, China would have cooperated in the investigation.
Let us know that the World Health Organization, which went to find out the origin of corona virus in Wuhan, China, has also not presented any concrete report so far. Western countries have also questioned the WHO's attitude towards the corona virus epidemic.
Trump had clearly said – Chinese virus
Last year, the then US President Donald Trump publicly publicly dubbed Corona a 'Chinese virus'. Trump said – It was prepared in a lab in China and because of this, the health sector of the world is being destroyed. Many countries' economies will not be able to handle it. He even said that the American intelligence agencies have evidence of this and will put it in front of the world when the time comes.
Let me tell you, Kovid-19 pandemic corona virus i.e. 'SARS Cove-2' started spreading from Wuhan, China in December 2019. Corona virus is a large group or family of viruses. They cause a common cold in humans ranging from cough to severe respiratory disease ie severe acute respiratory syndrome (SARS). The patient dies if the infection spreads too much.
15 million infected so far, 3.2 million deaths
So far, 15.7 million people have been infected with Kovid-19 in the world and 32.80 lakh deaths have been done. Every day cases are increasing worldwide. On Sunday, there were 7.83 lakh new cases in the world. During this period 13,022 people died.
Havoc in India and Brazil
Corona's havoc is seen most in India and Brazil. On Saturday, 47 percent of the world's total deaths were recorded in India and Brazil. In India 4,133 people and 2,091 in Brazil died due to corona.
read ahead
Bat cannot spread virus

www.amarujala.com