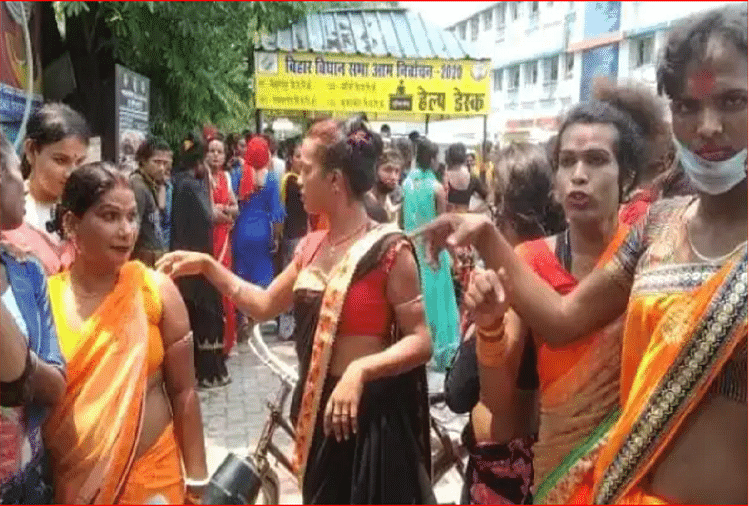 India News
Bihar News Due To Lockdown Kinnar Community Is Suffering A Lot They Protest Against State Government
On May 9, 2021 by admin
News Desk, Amar Ujala, Gopalganj
Published by: Tanuja yadav
Updated Mon, 10 May 2021 03:05 PM IST
abstract
The people of Kinnar community are facing a lot of trouble due to the lockdown in Bihar. They staged a protest against the government at Ambedkar Nagar Chowk in Gopalganj.
Protest of Kinnar community against the state government in Bihar
– Photo: Social Media
Detailed
The general public is facing a lot of trouble due to the lockdown in Bihar. Meanwhile, some people from the Kinnar community in Gopalganj, Bihar protested fiercely. These people have to say that the state government has imposed a lockdown in the state and in the meantime, our dance and songs are also completely banned, due to which we are facing a lot of trouble for daily expenses.
Rosie-Roti problem due to lockdown

Eunuchs say that the problem of livelihood has arisen due to the stoppage of dance and singing. At the same time, the district administration team reached the spot as soon as the uproar was reported, but the opposing eunuchs attacked them as well. Locals present on the spot said that the officers fled from there after saving the life of the eunuchs.
According to the information received from the police, hundreds of eunuchs started protesting at Ambedkar Nagar Chowk. After a while, the ruckus of the eunuchs intensified and they started targeting the trains passing through there. In this connection, the eunuchs also damaged the district administration's car which reached the spot.
Demonstrations ended after SDO's assurances

At the same time, one of the SAP soldiers was injured when he reached to save the officer. According to the information, the performing kinnars started turning towards Jangiya Mor from Ambedkar Nagar Chowk. But then the performance of the eunuchs became fierce, in view of which the officers saved their lives and ran away.
The Kinnar Collectorate then turned to the gate. As soon as the police came to know about this, they closed the Collectorate Gate. The Collectorate sat on the dharna outside the gate. The eradication of the eunuchs ended after the SDO assured the spot.

www.amarujala.com