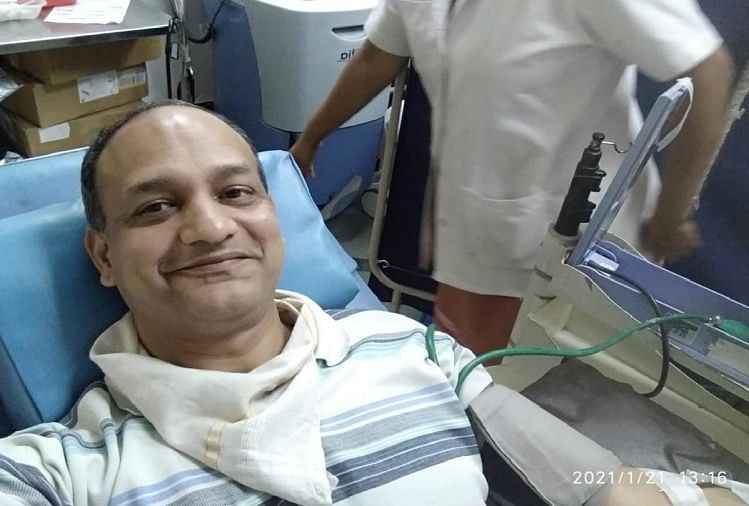 India News
'Plasma Bank': Pune Man, Inspired By His Mother, Donated 14 Times Plasma In Nine Months, Made A Record In The Country Record created in
On May 8, 2021 by admin
Rahul Sampal, Amar Ujala, New Delhi
Published by: Surendra Joshi
Updated Sat, 08 May 2021 07:10 PM IST
abstract
Plasma needs are more in this phase of epidemic. It has emerged as a major weapon against Corona.

Ajay Munot becomes plasma bank
– Photo: self
Detailed
The second wave of Corona virus in the country has caused outrage. The lives of millions of people are at stake in the epidemic. Some people are struggling to save their lives and some are not backing down from putting their lives at stake to save the lives of others. One such person is from Pune, who has given new life to many people by donating plasma. He holds the record for donating plasma 14 times. He got his inspiration from his mother. Let's know about this person
50-year-old Ajay Munot, originally from Pune city in Maharashtra, has donated his plasma 14 times so far. He has such a passion to save the lives of people by donating antibodies that are constantly being made in the body, that Ajay has not even got the vaccine so that he can keep donating the plasma. It is being told that the India Book of Records has also reported this first case of the same person donating plasma 14 times.
Were infected in July 2020

Ajay Munot said in a discussion with Amar Ujala, 'I got corona infected in July 2020. Since then, I have been donating plasma to help people. I have donated my plasma to the blood bank about 14 times in these nine months. As long as antibodies continue to form in the body, I will donate plasma. Usually a healthy man can donate his plasma in a span of 14 days.
O mother was negative, often donated blood

He further stated that, my mother was O negative blood donor. Those with such blood groups are called universal donors. Most of them used to get calls from the Army Office of Pune to donate blood. Whenever she went to donate her blood, she used to go with him. Since then, I vowed that I would do something similar in future so that people can save their lives. Today I donate my plasma after taking inspiration from my mother. My close friends and relatives are now calling me as Plasma Bank.
So no vaccine

Ajay further said, when I got corona infected, I got scared but was cured by the courage of the family members. I have not yet started the vaccine so that people can donate plasma. I come from a joint family. I have 11 members in my family. All the people are supporting me in this work. My wife takes special care of my food and drink. Today, there was not much I could do without the support of the family. Today, in this era of corona epidemic, people need each other. So, based on my videos and experience, I am also motivating people to donate plasma and blood.

Significantly, plasma is very important in the treatment of serious patients of corona, so it is considered as a charity like blood donation.

www.amarujala.com