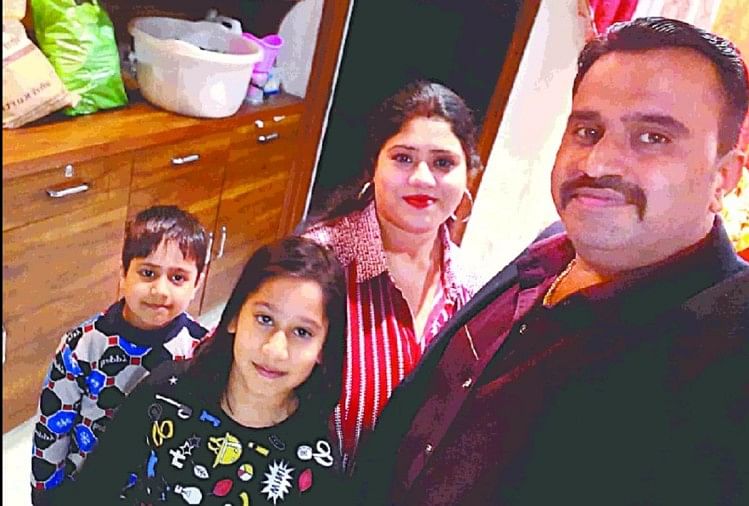 India News
Delhi News: mama, Keep On Trying, Those Who Try Never Give Up
On May 8, 2021 by admin
Navneet Sharan, New Delhi
Published by: Dushyant Sharma
Updated Sun, 09 May 2021 04:09 AM IST
Vandana with my family …
– Photo: amar ujala
Detailed
Keep encouraging, mama, those who try never give up. Have faith in your mind, we will succeed and will beat Corona. Don't you worry, I will manage both the younger brothers by staying at home. You complete your investigation and come to the investigation center. This belief of her daughter, Vandana Chawla, who had been in the grip of Corona infection for 15 days, continued to inspire victory. Today he is healthy with the family.
In the battle of Corona, the courage of the daughters and to take care of the family also remains a big support. When Vandana Chawla of Mukherjee Nagar came under high fever, cold and cough, her nine-year-old daughter Vanshika, studying in her fourth class, kept her spirits up. Even freed her mother from the responsibility of younger brothers and took the responsibility of bathing and feeding Jai and Jesus.
Vandana Chawla says that on Mother's Day, it was the best gift from my daughter who is never forgetful. However, in the meantime, Kovid-19 also gave him an unbearable pain. Chawla says that Shweta Bhabhi lost her husband during the transition. This is a gum that can never be forgotten.
Very carefully taken care of

Vandana, who emerged as a corona fighter, told that there was a fever for the first ten days, during which she kept taking many medicines including coronil, hot water vapor, vitamin C. When not corrected, Corona came back positive in the investigation. Then Dr. Suman, who lives in the neighborhood, suddenly came as an angel and started treatment. Now I am healthy with my husband and all three children. Drinking hot water, paying attention to food and staying at home with family members.
Teacher says those who try will never give up: Vanshika Chawla
Vanshika says that Corona also came last year. Then nothing happened. I realized this and believed that Mamma's corona infection would not do anything. My mother is the sweetest and my father and younger brother. Aprajita Mam repeatedly says that those who try will never give up.

www.amarujala.com