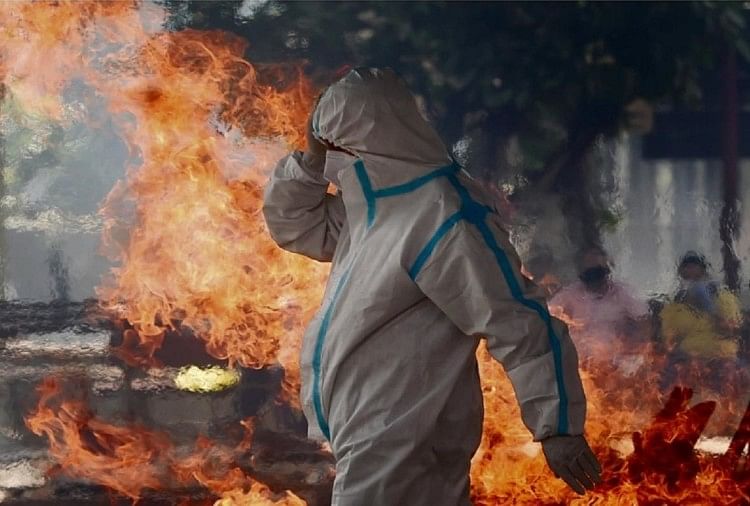 India News
Coronavirus India All Updates, Know All The Mistakes Which Have Reached India For Covid19 Emergency Stage
On May 8, 2021 by admin
News Desk, Amar Ujala, New Delhi
Published by: Sanjeev Kumar Jha
Updated Sat, 08 May 2021 12:58 AM IST
abstract
So far, more than 2 crore patients in the country have been infected with Corona, while more than two and a quarter lakhs have lost their lives.
Detailed
Corona's havoc in the country continues to grow. There are long queues of patients in hospitals and people are looking helpless. People are spreading their hands on every level from social media to help, but many patients are facing black marketing or else they are losing their lives. So far, more than 2 crore patients have been infected with corona, while more than two and a quarter lakhs have died. At the same time, on an average, 3 lakh 78 thousand cases are coming daily in the country. Let us finally know where the government has defaulted, due to which the country is facing this devastation …
First lapse

Before the second wave of Corona started in early March, Union Health Minister Dr. Harsh Vardhan announced that Corona is in final position in India and we have almost won it. Despite the arrival of new types of Corona, the Government of India tried to show that the Government's strategy in defeating Corona was absolutely correct.
Second lapse

It was spread by the Indian government that herd immunity has developed among the majority of people in the country, but the truth was different. According to a report by the Indian Council of Medical Research (ICMR), only 21 percent of people in the country have developed antibodies to corona. Explain that herd immunity means that if a disease spreads to a large part of a group, then the immunity of a human being helps the infected people in fighting that disease. People who recover completely after fighting the disease become immune to the disease, that is, they develop immunological properties and help other patients.
Third lapse

The government allowed religious celebrations to go ahead despite warnings about the risks of superspreader events. Organized huge political rallies to fulfill his political ambitions. Apart from all this, the corona management was relaxed and people started roaming the streets without masks.
Fourth lapse

After the case came down, the government felt that the corona was almost on the verge of cessation, thus slowing down the start of the vaccination campaign, under which only 2 per cent of the people were vaccinated. India's vaccination plan at the central level did not appear to be as effective.

Fifth lapse

The government suddenly made several decisions without discussing the change in policy with the states, which led to the collapse of the system. Many states are still not getting a sufficient number of vaccines. Failure to create a market for vaccine doses has led to competition between states and hospital systems.
Sixth lapse

Large states like Uttar Pradesh and Maharashtra had no idea of ​​the sudden increase in cases nor did they make any preparations to deal with it. For this reason, due to sudden rapid increase in the number of patients, health systems collapsed and there was a shortage of beds in hospitals.
Seventh lapse

Out of 24918 primary health centers in the country, only 3278 centers are established according to standards and only 8514 centers are operated 24 hours. Public health conditions in rural areas in India are deteriorating rather than improving. As on 31 March 2019, 234220 ANMs were operational in India. A year later, on 31 March 2020, this number was reduced to 212593, approximately 1.25 million ANM personnel were reduced. That is to say, there is a huge shortage of doctors in the country.
Government will have to take concrete steps

The Government of India will now have to adopt a concrete strategy. First of all, talking to the state government, health arrangements have to be made from city to village. After this, talking to the government of other countries will have to speed up the supply of vaccine. There is a need to intensify the vaccination campaign in the country. Channels need to be established not only in the city but also in the village so that it can be prevented from spreading on a large scale. Oxygen plants will have to be set up in every city so that these difficulties can be dealt with in the coming times.

www.amarujala.com