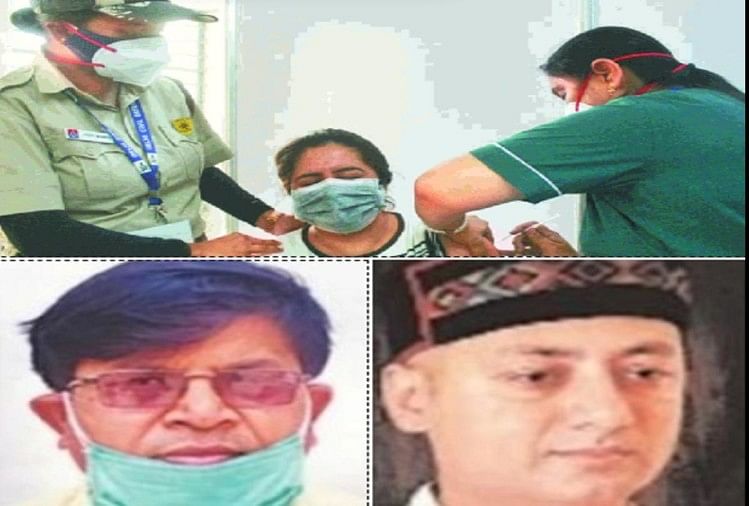 India News
Corona Warriors: Serving Patients Day and Night by Forgetting Their Loved Ones in Difficult Times
On May 8, 2021 by admin
Amar Ujala Network, New Delhi
Published by: Dushyant Sharma
Updated Sat, 08 May 2021 05:57 AM IST
Dr. Kapil Dev and Aditya Gautam (below) …
– Photo: amar ujala
Detailed
There is also no shortage of helpers in the midst of the Corona crisis. At least this is what the news from all parts of the country says. Yes, it is definitely that the number of such people is small. That is why people call him a soldier of distress or a corona warrior with a sense of respect. Even today, the story of some Corona warriors …
On the birthday of the daughter, she returned from outside the house to the hospital

Dr. Kapil Dev – Incharge Kovid Hospital Level Two, Saharanpur, Uttar Pradesh

Dr. Kapil Dev, in-charge of Fatehpur Kovid Level Two Hospital, is in the role of Medical In-charge to Manager in a 50-bed hospital. During the second wave of corona infection, they continue to perform duty. Many times one has to spend the whole night awake as well as day. Dr. Kapil says that along with breakfast, two meals a day, tea etc. of the admitted patients, they are busy twenty-four hours in supplying medicines and oxygen etc. when they are serious.
Dr. Kapil says that there are so many phone calls related to the hospital that they are unable to take the time to talk to the family members. The wife and two children live in Dehradun. He told that on May 3, the birthday of the younger daughter of six years was. When he insisted, he reached home at nine thirty in the night and after standing in the street, wishing the daughter from a distance, came to Kovid Hospital by 11 pm and took up the duty again.
Extended helping hand for Corona patients

Aditya Gautam, Kullu, Himachal Pradesh
After the holiday, Aditya Gautam, who was posted in the Merchant Navy, has again started helping the Corona patients. He has released his mobile number for the needy people. He returned home after working for five to six months only last week. He said that for any type of trouble in the Corona period, contact number 98570-22669. Aditya Gautam is also the district BJP spokesperson. He himself is in touch with the Corona patients of the district via telephone. Said that he will also help the needy Corona patients refill oxygen gas cylinders along with ration, mask, sanitizer.
Aditya said that in such a difficult time, saving human life as humanity should be the religion of every person. He will be ready to help the corona patients day and night. It is worth mentioning that last year too, Aditya had helped a lot of school-college students apart from migrant workers. Thousands of masks were distributed to the people. There was also a campaign to sanitize the entire city.

www.amarujala.com