India News
Bomb blast near school in Afghanistan's capital Kabul, 40 dead so far – blast near school in afghanistan capital kabul, 40 dead
On May 8, 2021 by admin
Highlights:
Bomb blast in Shia-dominated areas of Kabul
The bomb blast happened near a school
30 people killed in bomb blast so far
Kabul
At least 40 people, including many young students, have died in a bomb blast near a school on Saturday in the Shia-dominated western part of Afghanistan's capital, Kabul. Apart from this, dozens of people have been injured in this attack. This information has been revealed by quoting the Afghan government. The Taliban have condemned the attack targeting civilians and denied their involvement in it.
Death toll may increase
Interior Ministry spokesman Tariq Ariyan said that the injured were evacuated through ambulances from a blast near the Syed al-Shahda school located in the Shia-dominated Dasta-e-Barchi area. Authorities have feared the death toll will increase. Residents of the area said that the blast was very gruesome. Resident Naseer Rahimi said that he heard the sound of three separate blasts. However, this claim could not be officially confirmed.

Pakistani army gets a shock, 4 soldiers killed, 6 injured in attack from Afghanistan
Explosion occurred at 4.30 pm
He said the blast took place around 4:30 pm local time and the girls were leaving the school at that time. Jahra, a 15-year-old student who was injured in the blast, said, "I was with my classmates and as we were leaving the school, there was a tremendous explosion." 10 minutes later there was a blast again and a few minutes later there was another explosion. '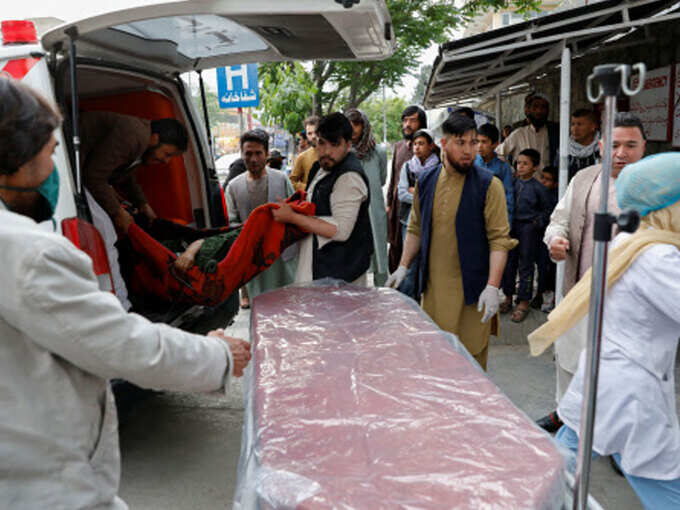 No organization has taken responsibility yet
No organization has claimed responsibility for the immediate attack, but in the past, the Islamic State claimed responsibility for the attacks in the same Shia-dominated area. The extremist Sunni Muslim group has declared war on minority Shia Muslims in Afghanistan. The United States blamed the Islamic State for the attack on the maternity hospital last year in which many pregnant women and newborns died.

America going back from Afghanistan, Taliban ravaging, 226 people killed in 24 hours
Angry mob attacked ambulance
Health Ministry spokesman Ghulam Dastigar Nazari said the angry mob attacked the ambulance and even beat up the health workers. He appealed to the people to cooperate and allow the ambulance to go to the scene. A picture of social media showed a balloon of smoke rising in the area.
American troops withdrawing from Afghanistan
The attack comes days after the formal withdrawal of 2500 to 3000 US troops remaining here began. The withdrawal of American troops will be completed by September 11. The withdrawal comes amid fears that the Taliban may become powerful again, with nearly half of Afghanistan under their occupation or influence.

navbharattimes.indiatimes.com