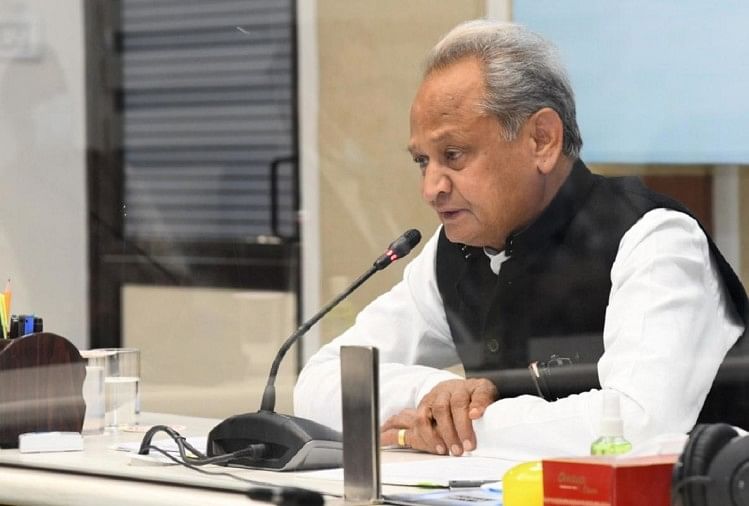 India News
Rajasthan Government Imposes A Complete Lockdown In The State From 10 To May 24 Amid The Surge In Coronavirus Cases – Corona Infection: Complete Lockdown in Rajasthan from May 10 to 24, know who gets exemption
On May 7, 2021 by admin
The Rajasthan government has announced a complete lockdown in the entire state in view of the rising corona case. Under this, there will be strict restriction from 5 am on May 10 to 5 am on May 24. The entire lockdown is on till May 24 to break the Corona chain in Rajasthan. During this time everything else will remain closed except the essential services.
Marriage ceremonies will be held only after May 31, 2021, with the lockdown being imposed from 5 am on May 10 to May 24 at 5 am in the state. During this time, all types of religious places will remain closed.
Any kind of ceremony related to marriage, DJ, procession and evacuation and partying etc. will not be allowed till 31 May. Marriage will be allowed at home or as a court marriage, in which only 11 persons will be allowed. This will have to be reported on the web portal.
According to the decision, it would not be permissible for band-baaj, hawaii, tents or any other person of this kind to be included in the marriage. Home delivery of any kind of goods related to tent house and confectioner will also not be allowed for marriage.
Marriage garden, marriage hall and hotel complex will remain closed for the wedding ceremony. Marriage venue owners, tent traders, catering operators and band banquet players, etc., will have to return the advance booking amount to the organizer or adjust it later in the event.
According to the decision, no group meals will be allowed. In rural areas, there have been cases of workers getting infected, in view of this, the work of MNREGA will be postponed.
In addition to medical services, all types of private and government transport such as buses, jeeps, etc. will be completely closed. Bus, auto, tempo, tractor, jeep etc. will not be allowed for the procession.
According to the decision of the cabinet, the movement of heavy vehicles transporting goods, loading and unloading and transporting goods within the state and within the state will be permitted.
There will be a complete ban on all types of traffic in the state, except medical, other emergency and permissible categories, from one district to another, from one city to another, from city to village, from village to city and from village to village.
It will be mandatory for travelers coming from outside the state to submit the RTPCR negative test report conducted within 72 hours. If a passenger does not submit a negative test report, he or she will be kept in isolation for 15 days.
To prevent migration of workers, it will be allowed to work in all units related to industries and construction. Identity cards will be issued by these units so that workers do not have any inconvenience in movement.
The meeting expressed deep concern over 'insufficient allocation' of oxygen in the state. The cabinet said that the allocation made by the central government in proportion to the large number of corona infects in Rajasthan is inadequate.
It said that out of the 200 MT of oxygen allocated from Jamnagar, maximum allocation should be made to Rajasthan as presently the requirement of oxygen in the state for Kovid patients has reached more than 600 MT and by May 15 it has reached about 795 MT It is expected to happen.
It was said in the meeting that the central government should increase the allocation of oxygen at the earliest as per the requirement of the state.
61.5% patients and 70% deaths in 9 districts
There are 61.5% patients and 70% deaths in 9 districts of Rajasthan- Jaipur, Jodhpur, Udaipur, Kota, Bikaner, Alwar, Sriganganagar, Hanumangarh, Sikar. If the government tightens restrictions in these nine districts, half the war can be won by the epidemic.
In nine districts alone, 61.5% of the new positive 16,815 i.e. 10341 patients have been found. 73% of the deaths are taking place in these districts. On Wednesday, a total of 155 deaths occurred in the state. There were 114 deaths in these nine districts. 43 were killed in Jaipur, 20 in Jodhpur, 19 in Udaipur, 8 in Bikaner, 7 in Alwar, 6 in Kota, 5 in Dungarpur, Sikar and 3-3 in Sriganganagar.

www.amarujala.com