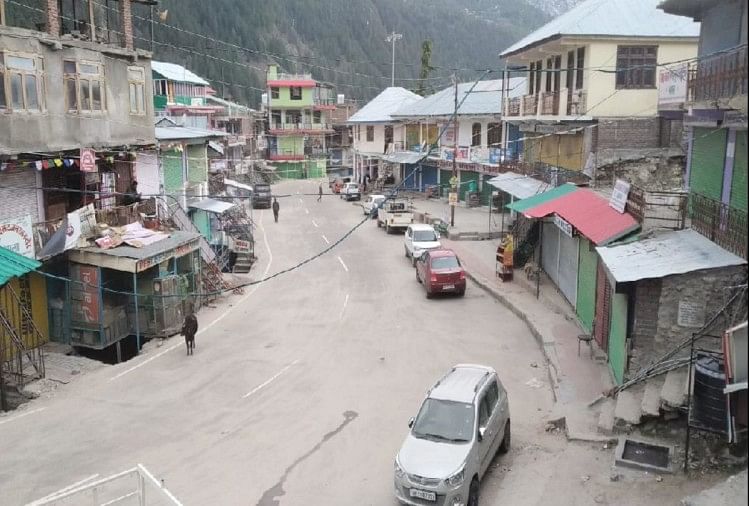 India News
Coronavirus Second Wave Is Reaching In The Villages Of Himachal, Many Panchayats Affected, Containment Made In Rural Areas – Himachal: Corona wave reaching villages, virus spread in 38 Panchayats of Kinnaur, Containment Zone made in many places
On May 7, 2021 by admin
abstract
The state government has implemented 'Corona curfew' from Friday to May 17 in the state to break the corona chain.
Containment Zone in Sangla, Kinnaur.
– Photo: Amar Ujala
Detailed
After the cities in Himachal Pradesh, there is also increased concern about the knocking of the second wave of Corona in the villages. The state government has imposed 'Corona curfew' from Friday May 7 to May 17 in the state to break the corona chain. Seven members of the same family have come positive in Dhami, a rural area adjoining Shimla city. After this, the Health Department made this building a containment zone. Block Medical Officer Dr. Rakesh Pratap has confirmed this. He informed that he has given information to the district administration about this. Samples of people exposed to family members will be taken. At the same time, the second wave of corona in Kinnaur district is spreading very fast and the death rate is also increasing.
Speaking to the media, SP Kinnaur SR Rana said that out of 73 panchayats in the district, 38 panchayats have spread corona infection, in which 8 people have died due to corona virus. He said that special attention would be paid to prevent the spread of corona infection in 35 panchayats. The SP said that in the SOP issued by the state government, instructions have been issued not to gather more than 20 people for the wedding ceremony or any other event and wherever the orders will be disregarded, take strict action against the organizers. A criminal case will be registered. The SP said that all the police stations and outposts in the district have been instructed to keep an eye on any event in their respective areas and take strict action against them in violation of the Corona curfew. Report this to the SP office. The SP said that the police will keep a close watch on the people going in and out of the district at the entrance of the Chaura check post of Kinnaur.
Record 4089 new corona positive, 57 infected dead

In Himachal Pradesh on Friday, all records of new corona cases and deaths have been broken. A record 57 corona-positive patients have died in the state. Earlier, on May 3, the highest number of deaths was 55 in a single day. In Kangra district, a record 21, Sirmour nine, Solan six, Mandi seven, Shimla five, while three people died in Una, Bilaspur and Hamirpur. On the other hand, the report of corona test of record 4089 people in the state has come positive. A record 1605, Mandi 417, Solan 490, Shimla 314, Hamirpur 289, Chamba 267, Sirmaur 285, Bilaspur 242, Una 119, Kullu 45 and Lahaul-Spiti have recorded 16 new cases in Kangra district. Earlier on May 6, 3785 new cases were reported.
Containment zone built in 10 houses in panchayats
After the corona infection cases came up, 10 houses of various panchayats of Ghumarwin subdivision of Bilaspur have been made a containment zone. This order has been issued by SDM Ghumarwin Sheshpal Sharma. Complete ward number 5 of village Andhroli of village panchayat sandhyar, 1 house in village panchayat ohar village bhajwani ward number 6, 100 meter radius of 1 house of ward number 5 of nearest UCO bank Ghumarwin, 1 house of ward number 5 of dakki chowk block. 100 meter radius, 1 house of ward number 6 of Gram panchayat Kotlu village, 1 house of ward number 4 of village Amarpur of village panchayat Amarpur, a house in ward number 2 of village Balu Bani of village panchayat Bakroa, gram panchayat plasla A house in ward number 5 of village Plasla, a house in ward number 2 of village panchayat Kapahara village, complete ward number 2 of village panchayat fattoh village ropa, a house in ward number 2 of village panchayat fattoh village ropa, gram panchayat kapada The entire village of ward number 7 of village Chali, 1 house of ward number 3 of village Samlohal of village panchayat plasla has been declared as a containment zone.
25 houses out of containment zone
As no new cases of corona infection have come to the fore, 25 houses have been moved out of the containment zone in various gram panchayats of Bhoranj sub-division of Hamirpur district. SDM Rakesh Kumar has issued orders in this regard. Mundkhar ward number 3 to 1, Tikkari Minhasa ward number 2 to 2, Papalah ward number 5 to 1, Bhoranj ward number 4 to 1, Bhalbani ward number 9 to 1, Badaihar ward number 7 to 2, Lagmanvi ward number 4 to 1, Mahal ward number 5 to 1, Sadhriyan ward number 6 to 1, Bahanvi ward number 3 to 1, Nandhan ward number 6 to 1, Bhakeda ward number 5 to 1, Baloh ward number 4 to 1, Bajrauh ward number 2, 3, 5 To 3, Dimmi ward number 3 to 1, Jahu ward number 8 to 1, Mundkhar ward number 9 to 1, Manvi's ward number 5 to 1, Kot Langsa ward number 6 to 1, Bhoranj's ward number 7 to 1 house. Containment has been excluded from the zone.
Nine panchayats sealed including Chuwadi Nagar Panchayat
The Kudnu, Gahar, Jatarun, Cuddi, Raipur, Hobar, Bnet and Parchod panchayats of Nagar Panchayat Chuwadi have been sealed by the Seal Administration. The Bhatiyat administration has taken this step after more than 200 corona infection cases were reported in the areas within two days. People will be banned from venturing out of their homes, including vehicles, in sealed enclaves. The availability of ration, medicines including daily use will be provided by the Bhatiyat administration at the doorstep of the people.
The police force has also been deployed by the administration to maintain security in the area. SDM Bhatiyat Bachchan Singh said that nine panchayats have been sealed in view of the increasing infection of Kovid. In Seal Panchayats, people are prohibited from coming out of their homes. Through the Panchayat representative or people, two people can go to the shops and buy goods from 11 am to 2 pm.
5-5 thousand fine for making dham in wedding ceremony
In two wedding marriages held in Churah Assembly constituency, the Dhanamana was overshadowed by the organizers. The teams formed under the leadership of SDM Churah have paid fine of five thousand rupees to both the organizers who reached the venue. At the same time, strict instructions have been given that legal action will be taken against the organizers if the dham is organized in the ceremony again. He has warned to include only 20 people in the wedding ceremony. This action, implemented by SDM Churah, has stirred the area.
In view of the increasing cases of global epidemic corona, the state government has banned the organizing of the dham, including the mass celebrations. Despite this, its people are still not holding back from violating the guidelines issued. In such a situation, now the administration has started to tighten the rules breakers. In this sequence, two teams formed by SDM Churah conducted surprise inspections at Bhanjaradu and Salvi of Tikri Garh. Dham was being built in the wedding ceremony. However, the team fined both the organizers five to five thousand rupees. SDM Manish told that dham was being built in the weddings being held in Salvi of Bhanjaradu and Tikarigarh. The organizers have been fined ten thousand rupees. Kovid rules are made for the safety of the people, which everyone should follow.
read ahead
Containment zone built in 10 houses in panchayats

www.amarujala.com