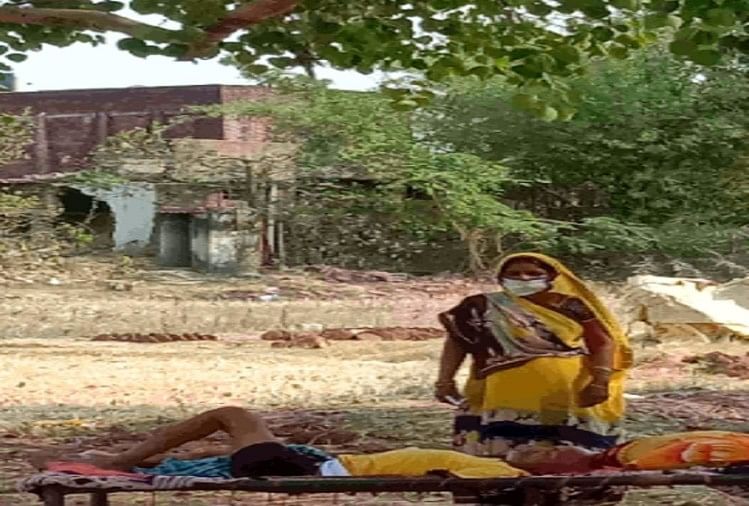 India News
Corona Infected Put To Sleep Under The Peepal Tree For Oxygen In Gorakhpur
On May 7, 2021 by admin
Amar Ujala Network, Gola (Gorakhpur)
Published by: Dushyant Sharma
Updated Sat, 08 May 2021 04:08 AM IST
In symbolic protest …
– Photo: amar ujala
Detailed
In the village Dadra, Corona-infected elderly Swaraj Hind Paswan alias Galla could not find a place in the hospital due to shortness of breath, then the relatives put him to sleep on a cot under a peepal tree in a symbolic protest. Although all this was done on not getting a place in the hospital, but after that the whole scenario changed. Villagers claim that the falling oxygen level of the elderly has improved within two hours. Now they are being isolated and given the decoction and necessary medicines.
According to the information, Swaraj Hind Paswan alias Galla Corona, a resident of Dadra village under Gola PHC, is positive. He had trouble breathing on Friday. Oxygen levels also decreased slightly. Concerned family started searching for the hospital so that the elderly could be admitted. Not a single bed was found empty at Durgavati Hospital in Barhalganj. Information about beds in hospitals of Gorakhpur was obtained from mobile phones.
When the bed was not found, the family went to Sudhanshu Srivastava, a retired employee from the CMO office. When the family asked for help, Sudhanshu said to put Swaraj under the peepal tree and put it to sleep. Oxygen is found more under the Peepal tree.
The family was also displeased with not getting beds, when this suggestion came up, they put the elderly to sleep on the cot under the Peepal tree as a symbolic protest and respect for the suggestion. According to the elder's son Shailesh, nephews Nikhil and Hrithik, Swaraj's difficulty in breathing decreased after two hours. Oxygen levels are also fine at the moment.

www.amarujala.com