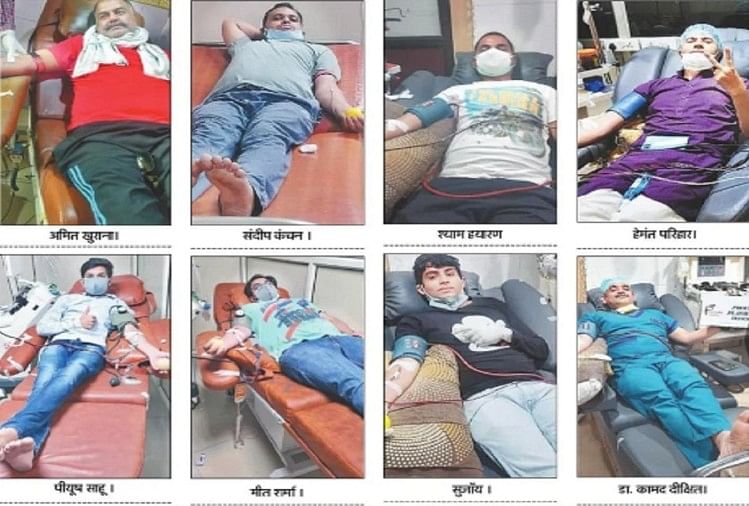 India News
300 People Donated Plasma To 600 Patients In Jhansi – Campaign Of Amar Ujala: Jhansi Mahadanis Saveed 600 Lives By Donating Plasma
On May 7, 2021 by admin
Plasma therapy is proving lifesaving for severely infected corona patients. In order to ensure that no patient dies due to its deficiency, 'Amar Ujala Foundation' has been campaigning for the last fortnight, which has had a significant impact. As part of the campaign, 300 people have donated their plasma so far, which has served 600 patients. With the donation of great tribes, many patients have been saved from death.
Corona virus infection is taking the land of Jhansi under its control at an uncontrollable pace. With this, the death toll is increasing. Among those who die, there are many people who could not get plasma on time. The family of the patient does not have to wander here and there to get plasma, it is easily available to them. For this, a campaign is being run by the Amar Ujala Foundation, through which people who have formed antibodies are being motivated to donate plasma. Three hundred people have given their plasma so far.
Plasma serves two infectives. Accordingly, 600 patients with severe corona infection have been given plasma. In this campaign, a big role is being played by the first initiative Foundation, the institution of hope light and organization wings. Apart from this, people of general public are also constantly coming forward to donate plasma.
Plasma therapy is proving to be extremely effective in treating severe corona infections. Inspired by Amar Ujala's campaign, people are coming forward to give plasma. For this, immortality to Amar Ujala and all those who have donated plasma.
– Andhra Vamsi, District Collector
Amar Ujala's campaign to donate plasma has proved very worthwhile. Many serious corona patients have recovered due to plasma therapy. Patients have also started saying that they will donate their plasma once they are healthy. This is an auspicious sign to deal with the corona in the coming days.
– Dr. NS Sanger, Principal – Maharani Laxmibai Medical College, Jhansi
In this period of disaster, only human will have to work for human beings. If someone's life is saved through you, then nothing can be more noble than this. People are coming forward to donate plasma extravagantly. You get immense satisfaction after donating plasma.
– Sajal Jain, Pratham Pahl Foundation
Plasma therapy is a lifeline for severely corona-infected patients. Plasma is present in the body of thousands of people. Despite this, the lack of it is killing patients. Plasma donation drive is being carried out due to which such a situation does not arise.
– Jitendra Yadav, illuminating hope
Thousands of people have antibodies present in their bodies. Despite, if a patient dies due to lack of plasma, it will be a very embarrassing situation for everyone. People are constantly coming forward for plasma donation by being part of Amar Ujala's campaign.
– Shaifali Goswami, Wings Association

www.amarujala.com