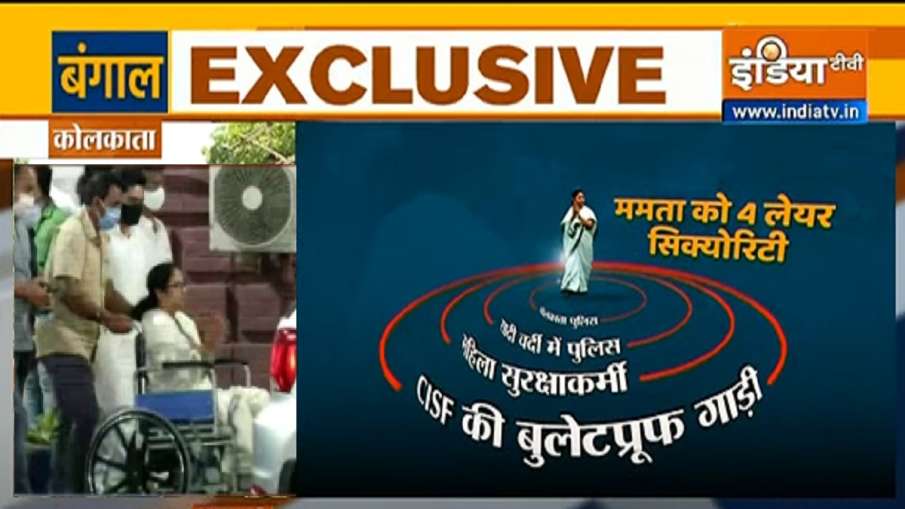 Kolkata. Today the political mercury of Bengal is very high. Today many veterans including Amit Shah are campaigning in Bengal, but the eyes of the entire country are on the Chief Minister Mamata Banerjee. Mamta Banerjee is going to campaign in Bengal's political battle for the first time after her injury. In a short while, Mamta will do a road show in a wheelchair in Kolkata. The 5-km roadshow will begin at Gandhi Statue on Mayo Road in Kolkata and end at Hazra. Special security arrangements have been made for this road show.
Read- Politics in Maharashtra after Sachin Waje's arrest, Raut said honest and competent officer
Today, Mamta's 4 layer safety shield has been prepared for the roadshow. There will be deployment of policemen from Kolkata Police to Sardi Uniforms. Apart from this, armored vehicles of CISF have also been installed during Mamta Banerjee's roadshow. Also, 12 CCTV cameras are being monitored from Gandhi idol to Hazra. This time Kolkata Police has left no stone unturned as questions were raised about police security after Mamata Banerjee got hurt, hence the police does not want to leave any chance today.
Read- Police rubs nose on man's feet with village head
Abhishek Banerjee will also be present
Today Mamata Banerjee will be accompanied by her nephew Abhishek Banerjee. Mamta's public rally is also to be held after the road show. Let us tell you that on 10 March Mamata Banerjee was in Nandigram, where she was injured during the night campaigning after filing a nomination. Mamta Banerjee had claimed that she had been attacked but people present at the site of the incident described it as an accident. After first aid in Nandigram, Mamta Banerjee was shifted to Kolkata's SSKM Hospital.
Read- Panchayat gave a strange decision, asked lover couple to slap each other
Although Mamata Banerjee termed the incident in Nandigram as an attack on herself, the Election Commission has said that the incident in Nandigram that West Bengal Chief Minister Mamata Banerjee suffered was an accident and it was not a planned attack. Two election observers on Saturday submitted a report to the Election Commission, stating this. A source in the Chief Electoral Officer (CEO) office said that this report has been prepared by Special Supervisor Ajay Nayak and Vivek Dubey, Special Police Supervisor for the West Bengal Assembly Elections. It states that the incident took place "suddenly" at Birulia Bazar in Nandigram in East Midnapore district after Banerjee's filing of nomination on 10 March, although it was said to be a conspiracy.
Read- Coronavirus: figures are careful! 25,320 new cases of infection were reported in India



www.indiatv.in