Kangana Ranaut took out her fierce anger on Twitter in the past. Twitter had deleted some of Kangna's controversial tweets, after which the actress got angry. Right now, she has flared up on Instagram. Kangana alleges that a negative camp is being run against her by paying money on Instagram. Not only this, Kangana has also claimed that her 5 lakh followers have reduced in 1 week. Kangana says that she knows who is getting it all done.
Kangna made six tweets one after the other.
Kangna took 6 tweets one after the other on Thursday afternoon. The actress wrote in her first tweet, 'Kya padaatte ho yaar … A complete investment has been made on the troll army. The creators have budgets that make mimes, Oomph is going on to spread lies about me. Movie Mafia + Political Mafia + Tired Actors, who are rejected lovers. You are so jealous of Bachori Fruit Bol. '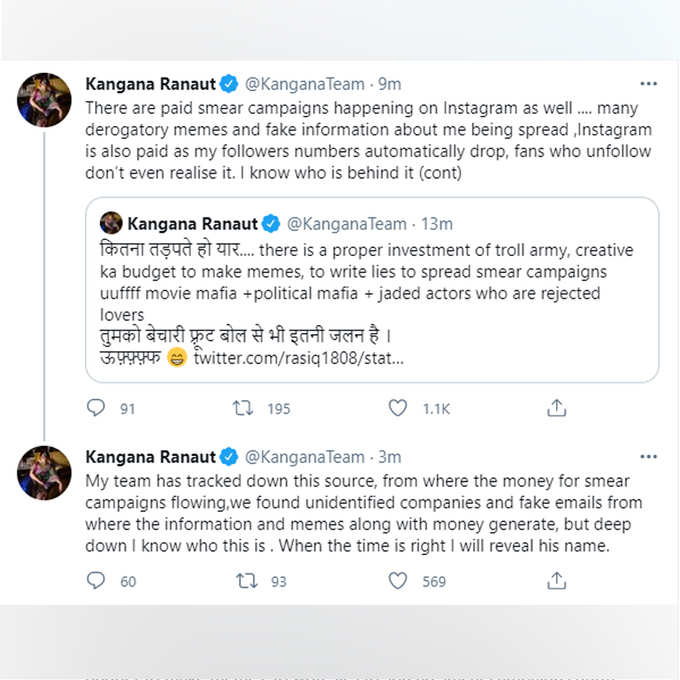 'Fake and insulting things about me'
Kangana then wrote in her tweet, "Campaigns are going on to discredit Instagram as well …. Many abusive things and fake information about me are being spread. Instagram is also paid for this, because the number of my followers falls automatically, which my fans do not even know. I know who is behind this. '
'I know who is behind this'
Kangana then wrote, 'My team has tracked the source from where this campaign of defamation is going on and from where the money flows for it, we got unknown companies and fake emails from where the money was paid. There are also information and memes. But even in its depth I know who it is. When the time is right, I will disclose his name.
'It's hurting my dignity'
Actually, Kangana Ranaut had posted her breakfast photo on Twitter and Instagram in the morning. Mims began to be formed on this after some time. That is why Baukhalai Kangana shared some screenshots and further wrote, 'All influencers get ready-made mims so that they can make fun of everything I do by posting them. In this case this fake editing is claiming that I lied about cooking, it may seem a bit superficial, but it hurts someone's credibility and dignity. '
'That's how they killed Sushant'
Kangana wrote in her 5th tweet, 'Last week I lost more than 5 lakh followers on Instagram, it is the mafia racket who boycotted me and it gives them happiness and satisfaction that it ruins your image and brand Please do it. Similarly, he killed Sushant, which is why he kills outsiders. '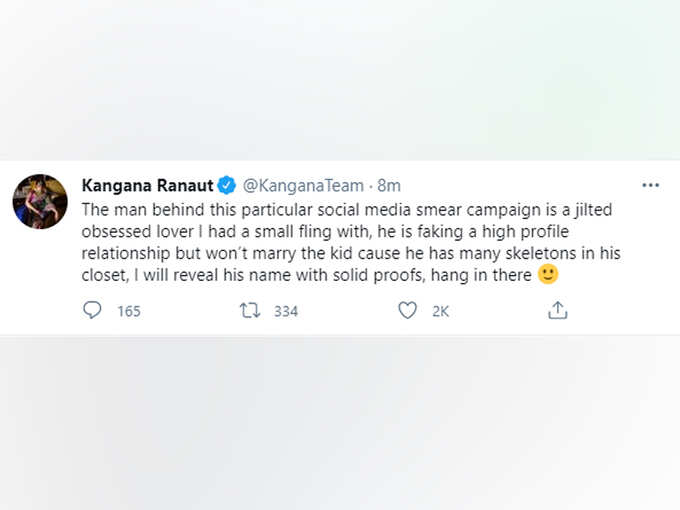 'A lost passionate lover is behind it'
Kangana wrote in her sixth tweet, 'There is a man behind this defamatory social media camp, a lost obsessive lover, with whom I had a small relationship, he is living a fake high profile relationship, but he Will not marry child because he has many faces. I will mention his name with complete proof. Please wait.

navbharattimes.indiatimes.com