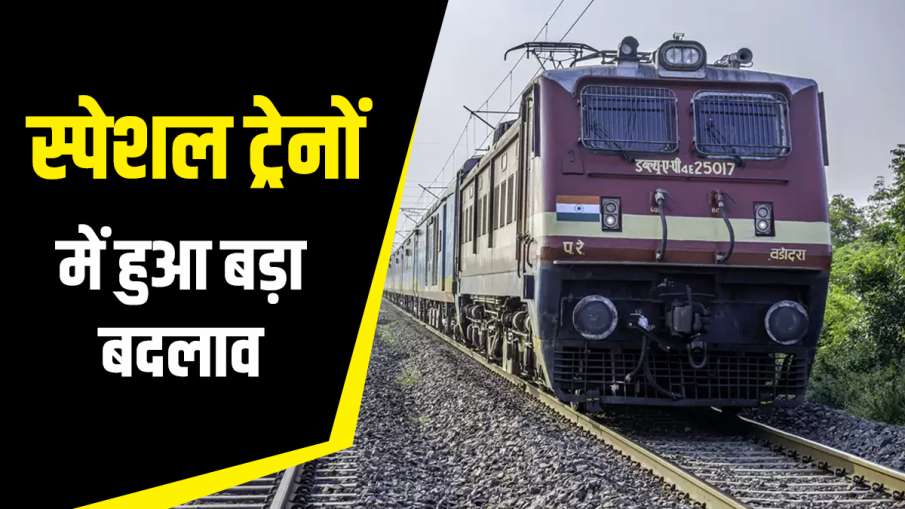 New Delhi: Railways have made major changes in 33 special trains for the convenience of passengers from today. These trains will no longer be run as reserved special trains and will be run as unreserved special trains. This change will be applicable from today till further notice. As per information released by Western Railway from today till further notice, a total of 33 special trains with general second class, DEMU and MEMU coaches and 65 services will be run as unreserved special trains in lieu of reserved special trains.
Changes made in these trains
09023/09024 – Mumbai Central – Valsad
09077/09078-NANDURBAR-BHUSAVAL
09007/09008-Surat-Bhusawal
09152/09151-Surat-Valsad
09154/09153-Valsad-Umargram
09377/09378-Udhana-Nandurbar
09155/09156-Surat-Vadodara
09315/09316-Vadodara-Ahmedabad
09319/09320-Vadodara-Dahod
09317-Vadodara-Dahod
09107/09108-Pratapnagar-Kevadia
09109/09110-Pratapnagar-Kevadia
09113/09114-Pratapnagar-Kevadia
09381/09382-Dahod-Ratlam
09383/09384-Ratlam-Nagda
09385/09386-Nagda-Ujjain
09507/09506-Indore-Ujjain
09518/09517-Ujjain-Nagda
09341/09342-Nagda-Bina
09545/09546-Ratlam-Nagda
09554/09553-Ujjain-Nagda
09345/09346-Ratlam-Bhilwara
09389/09390 – Dr. Ambedkar Nagar-Ratlam
09347/09348-Dr. Ambedkar Nagar-Ratlam
09401-Asarwa- Himmatnagar
09402-Himmatnagar-Asarwa
09431/09432-Sabarmati-Mehsana
09433/09434-Sabarmati-Patan
09437/09438-Mahesana-Aburod
09441/09442-Wankaner-Morbi
09443/09444-Wankaner-Morbi
09439/09440-Wankaner-Morbi
09528/09527-Bhavnagar-Surendranagar
09534/09533-Bhavnagar-Surendranagar
Booking of these trains will be stopped from today at the reservation centers after being declared unreserved. Only travel tickets can be issued for these trains. Along with this, Western Railway has also appealed to the passengers to follow the guidelines of Corona. The railway has appealed to the passengers to follow the mask, social distancing at the time of the journey. Periodically sanitize the haats too.
Read:-Prayagraj: STF killed two miscreants of Mukhtar gang in an encounter, wanted to target the jailer
Read:- Shashi Tharoor's taunt on Prime Minister Modi's beard, shared mim and then …



www.indiatv.in