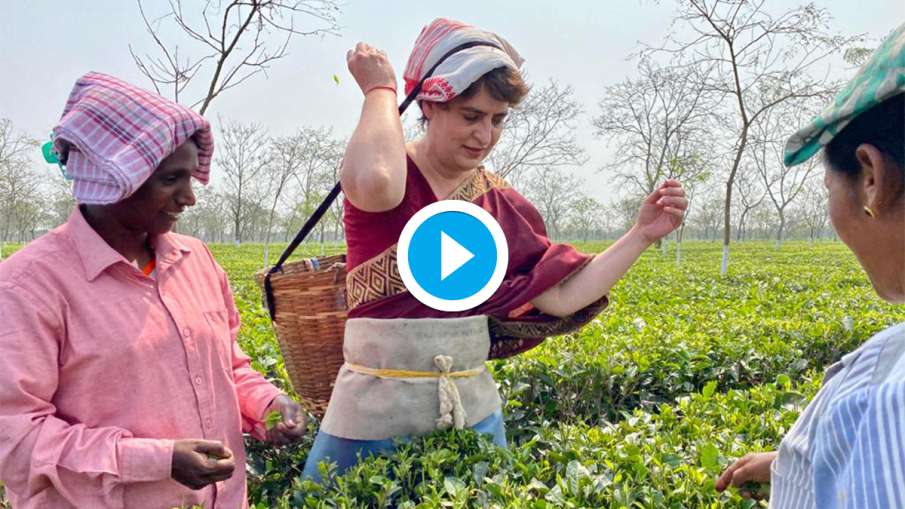 Guwahati. Priyanka Gandhi is on a tour of Assam these days. Elections are to be held in Assam in the coming days. Yesterday she started her Assam tour with worship at the temple of Kamakhya Devi in ​​Guwahati, today she was seen plucking leaves in tea gardens in Sadhru, Assam. During this, Priyanka Gandhi was breaking tea leaves with a basket tied on her back like laborers working in tea gardens.
Watch video
aPriyanka is an attacker on BJP at the same time
The 126-member assembly in Assam will go to polls in three phases on March 27, April 1 and April 6. That is why Priyanka is in Assam to create an atmosphere in favor of Congress. Congress General Secretary Priyanka Gandhi Vadra claimed on Monday that BJP leaders are talking around the country to implement the amended Citizenship Act (CAA), but as soon as they arrive in Assam, they remain silent on it.
Read- Airplane coming from Sharjah to Lucknow in Karachi, medical emergency was the reason
There were violent protests against the CAA in Assam in 2019 and five people lost their lives. The protesters called the law a threat to their cultural identity and livelihood. Significantly, the CAA aims to provide Indian citizenship to such Hindus, Sikhs, Jains, Buddhists, Parsis and Christians from Pakistan, Bangladesh and Afghanistan who came to India by 31 December 2014 due to religious persecution in those countries. Were.
Read- Road accident in Saket area of ​​Delhi, Mercedes crashed at a high speed in order to save the car
Priyanka said that the grand alliance of Congress and six other parties will form the government in Assam after the assembly elections because the people of the state have become fed up with the false promises of the BJP. She was wearing a hand-woven traditional Assamese 'Mekhala Chadar'. After addressing the party workers, the Congress leader told reporters, "BJP makes big promises before the election, but during the next five years they will do nothing to fulfill them and people understood that is."
Read- JDU will be strong again in Bihar, RLSP will soon merge
Pointing out that there is more than one center of power in the BJP-led government in Assam, Priyanka said, "We are unable to understand how many chief ministers there are in the state – one, two or many." Or, is it (government) running from outside by remote control? "The Congress leader began his address with 'Jai Assam Mata'. He said, "You are not fighting for the party or for your seat, but for the identity of Assam and your motherland." (Input- ANI / Bhasha)
Read- West Bengal Elections: Will TMC not make a difference due to BJP's breach? It is working on this strategy to win elections



www.indiatv.in