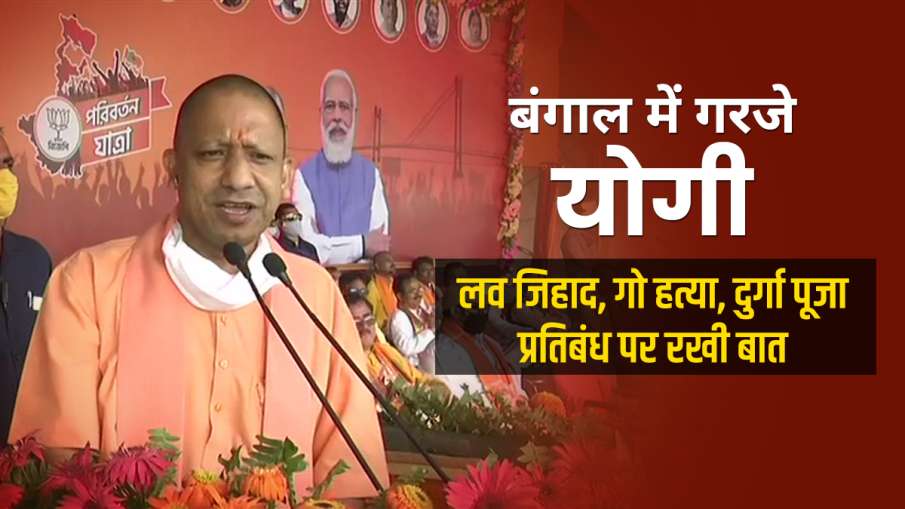 Kolkata: With the announcement of elections in West Bengal, the Bharatiya Janata Party has put all its strength in the election campaign. In this episode, Uttar Pradesh Chief Minister Yogi Adityanath reached Malda in the state. While addressing the public meeting here, he said, "Friends, the work of banning the slogan of Jai Shri Ram is being done once again within Bengal, but remember that the people of India do nothing without Ram, when they would meet each other." If Rama-Rama says, if there is any work at home, then she chants Rama-Rama and when she also takes out the last journey of a loved one, she will work with 'Rama Naam Satya Hai' to carry that journey forward. is."
He said, "There is no work of India without Ram, those who are Ramadrohi also have no work in India, no work in Bengal. I want to ask TMC that you have no mercy on the devotees, but the chaos inside Bengal What friendship does TMC have with the people who created it, due to which they have started to change the entire system of Bengal. "
He said, "Prime Minister Modi makes a law to provide safe havens to the oppressed and tortured Hindus, Sikhs, Buddhists, Jains, Christians of Pakistan, Bangladesh and Afghanistan and if they implement that law inside India then violence in Bengal Why does this power-sponsored violence begin? Here on one side there is talk of giving shelter to the oppressed humanity, but the government here opposes, but when it comes to excluding the intruders, the government is stung. "
Yogi Adityanath said, "In 3 years, 40 lakh people got housing in UP, but there is not a single poor house, there is no benefit of the Pradhan Mantri Awas Yojana. The poor are not able to get the benefit of the Pradhan Mantri Awas Yojana. Ayushmann has a health insurance cover of Rs 5 lakh in India, if he goes to any hospital anywhere in UP or anywhere in the country, he will get the benefit. But, the citizens of Bengal are not being given this benefit. "
He said, "The incidents of love jihad are being done here by deception, we have made a law in UP but in Bengal because there is a politics of appeasement, the government here is not able to stop cow smuggling and neither do love jihad. Stop those deadly activities, the consequences of which are going to be dangerous in the coming time. " He said, "30 years ago, every youth of India used to come to Bengal for their employment, but in 25-30 years, Bengal was devastated."
UP CM Yogi said, "The construction of Lord Ram's temple in Ayodhya has started, heartfelt greetings for the contribution made by the people of Bengal with the dedication of funds. BJP government within Bengal Bring and prosper in Bengal by visiting the temple of Lord Rama in Ayodhya. "
He said, "The person who has been the chief minister for so long should lose his temper in this way, it is a very strange situation. The kind of statements he is making are insulting Bengal." He said, "You see, the Ganges flows from Uttarakhand to Uttar Pradesh, Bihar and Jharkhand through West Bengal to the Ganges Sea. It connects the whole of India."
Yogi said, "No cow can kill in Uttar Pradesh, our government came in 2017 and cow smuggling and illegal butchery were stopped within 24 hours in Uttar Pradesh as soon as 2017. You bring BJP government In 24 hours, all illegal butchers will stop eating, smuggling will stop, cow smugglers will know what the consequences will be. "
He said, "There has been no riot in UP in 4 years, no one can stop there from celebrating any festival and festival. No trip is banned there. Here, the judiciary has to tell the government here that if Durga in UP Pooja can be organized, so why can't it be here? The government here allowed the procession of Muharram but banned the pandals of Durga Puja. "
Yogi said, "We in UP said that the time of Durga Puja will be done only at that time, we will not let any disturbance in it. In Bengal, worship is prohibited, playing with emotions, Go Smugglers are given protection. " He said, "Swami Vivekananda had said, going on the global stage, he called for awakening India. He said," Proudly say we are Hindus, his personality was about to connect India ".
Yogi said, "It's 1 month, change will be seen on the ground in a month, people who are doing hooliganism in the name of TMC, those who used to do hooliganism earlier in UP, they walk in the streets tying that Have mercy. I was seeing a picture, the elderly mother of a BJP worker was brutally beaten up by TMC goons and the swelling was on their mouths, seeing how cruel and barbaric these people are. , Do not leave even a woman. He said, "If the culprit commits a crime, it is the job of the police to take action against him. But, if the administration and the administration say instead of taking action against that criminal, the swelling has not come from beating. The swelling has arisen out of a minor controversy. "
UP CM Yogi said, "Let the election process begin, assuming that after May 2, when the BJP will form the government, the goons who spread hooliganism and anarchy in the name of TMC and Communists will roam around in their throats. Will also play with the law, he will be forced to beg for his life. " He said, "We are going to have a festival of Holi right now, I congratulate you and celebrate Diwali of cultural nationalism in Bengal on 2 May with colorful Holi connecting the celebration of Holi with the election. " He ended the speech with 'Jai Shri Ram'.



www.indiatv.in