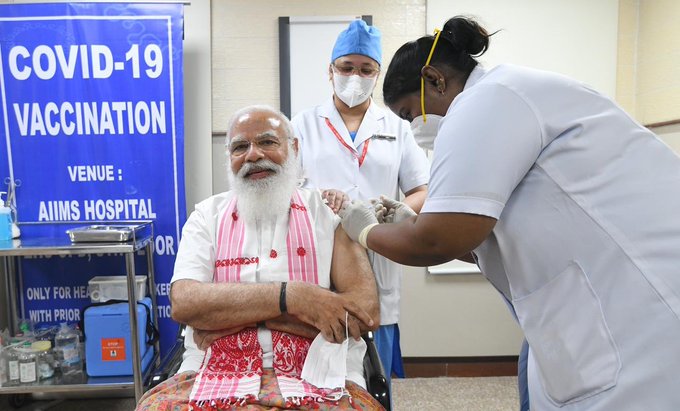 New Delhi: Prime Minister Narendra Modi got the Kovid-19 vaccine on Monday and he has become one of the leaders of the world who have given the message to the people to believe in the effectiveness of the vaccine as well as the vaccine. Prime Minister Narendra Madi took the first dose of indigenously-made India Biotech Kovaxine on Monday morning at the All India Institute of Medical Sciences (AIIMS) in New Delhi. Modi said, "I appeal to all those eligible to be vaccinated that together we should make India free from Kovid-19". He said that he praises Indian doctors and scientists who have opposed Kovid-19 Worked very fast in strengthening the global war.
70-year-old Prime Minister Modi got vaccinated on the first day of the vaccination campaign in the country for senior citizens of India and people above 45 years suffering from serious diseases. AIIMS chief Dr. Randeep Guleria said that Prime Minister Modi's initiative to get the vaccine would arouse confidence in the public and remove any hesitation or doubt about the vaccine. Modi has become one of the world leaders vaccinated by Kovid-19. UN Secretary-General Antonio Gutarais had vaccinated Kovid-19 in January.
Britain's Queen Elizabeth (94) and her husband Prince Philip (99) were vaccinated in January by a physician at the Royal House in Windsor. US President Joe Biden and Vice President Kamala Harris got vaccinated in December before taking office. Biden said after getting the first dose of the vaccine, "I am doing this to show that people should be prepared to have the vaccine available when it is available." There is nothing to be worried about.
While preparations are on to tackle the corona virus epidemic in the world, some countries are facing misinformation related to the vaccine. Former US Vice President Mike Pence also received the Corona virus vaccine in December. Pope Francis and his predecessor, Pope Benedict, were also vaccinated with the Corona virus. Saudi Arabia's King King Salman had vaccinated Kovid-19 in January. His son and Crown Prince Mohammed bin Salman also got vaccinated in December.
Israeli Prime Minister Benjamin Netanyahu vaccinated Kovid-19 in December. The ruler of Dubai, Sheikh Mohammed bin Rashid al-Makhtoum, had undergone the corona virus vaccine under test in November. Indonesian President Joko Widodo, Turkish President Tayyip Erdoआनan and Seychelles President Wavell Ramakalavan received the Corona virus vaccine in January. According to John Hopkins University, the number of cases of Kovid-19 in the world has exceeded 114 million. It said that 25 lakh 30 thousand people have died due to the virus all over the world.



www.indiatv.in