Highlights:
PM dosages of Bharat Biotech manufactured covaccine at AIIMS in the morning
The Prime Minister appealed to the people to work together to make India Corona free.
People also linked the photo of PM's vaccine to the assembly elections
New Delhi
Prime Minister Narendra Modi on Monday took the first dose of Kovid-19 vaccine at the All India Institute of Medical Sciences (AIIMS Delhi). PM Modi appealed to all those who are eligible to get the vaccine. PM Modi has vaccinated at a time when Corona cases are increasing again in some states of the country. At the same time, there is still a lot of reluctance in the minds of people about vaccine, especially with covaxine. Leaders of opposition parties praised Modi after the PM got the vaccine installed. At the same time, many people also raised many questions about this. After PM Modi's vaccine, PM Modi started trending on social media too.
Pleased with PM's vaccine
Shiv Sena leader Priyanka Chaturvedi said on PM Modi's vaccine that she was happy that PM Modi got the vaccine today. People will be hesitant to get PM's vaccine installed. The important phase of vaccine is being started for common people from today. In such a situation, I pray for the people of the country to be safe.
People will increase their trust but if I tell the name…
Congress leader Karti Chidambaram tweeted that PM Modi's corona vaccine will increase confidence in the general public. However, he also raised the question that if PM Modi had told which brand of vaccine he had taken, the whole thing would have come to light. Karti's reference to this was in the context of the Bharat Biotech-approved covariate approved for emergency use in the country. There were reports from some parts of the country in which health and frontline workers refused to take covaccine.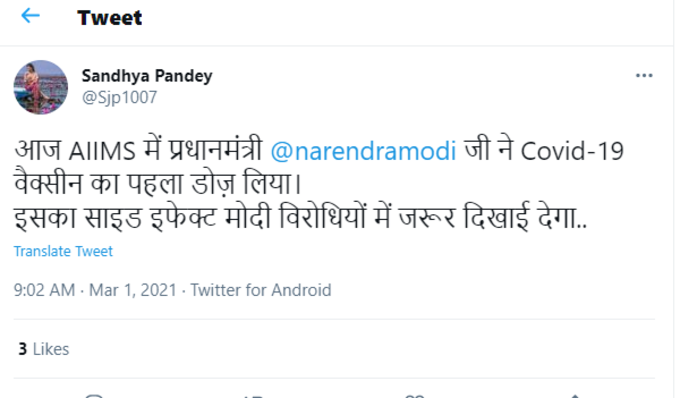 Now side effects will be seen in opponents
One user said that PM Modi has got the Corona vaccine installed. Its side effects will definitely be seen in Modi's opponents. Another user @ Ranjeet60928395 said that those who were thrashing about why Modi did not get the vaccine. They should see that whenever the number of people came after the first frontline worker, Modiji got the vaccine. Doubt is clear, but will not understand those princesses who consider themselves special. User @Dkumarchandel said that Prime Minister Narendra Modi gave the Corona vaccine an inspiration to those who do not want to get the Corona vaccine and were doing politics on the vaccine.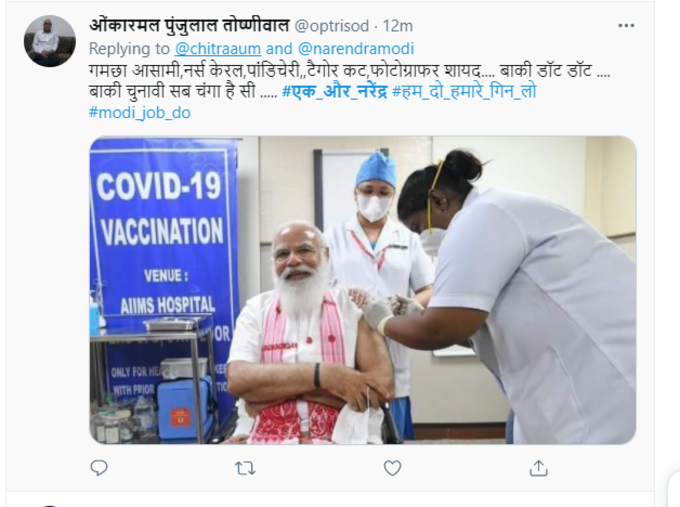 Gamchha Assamese, Nurse Puducherry and Kerala, Beard Tagore Cut
People also took a dig at the photo of PM Modi's corona vaccine. People also linked PM Modi's photo to the assembly elections of five states. One user wrote that Gamchha Assamese, Nurse Kerala, Pondicherry, Tagore Cut, Photographer maybe …. the rest dot dot dot ….. Another user @JyotiShrivast wrote that Gamcha is Assamese. The vaccine nurse belongs to Puducherry "Sister P Niveda". Those assisting are from Kerala. The medicine is made by scientists of India. Modi ji is also touching the All India Sentiment along with 3 states in getting medicines.
Puducherry's sister vaccinated PM Modi
Puducherry's Sister P. Niveda appointed Bharat Biotech's cocaine to Prime Minister Narendra Modi. After getting the vaccine, PM Modi said that the speed with which our doctors and scientists have worked in strengthening the global fight against the corona virus is remarkable. I appeal to all those who are eligible to take the vaccine. Together they make India corona free!

navbharattimes.indiatimes.com