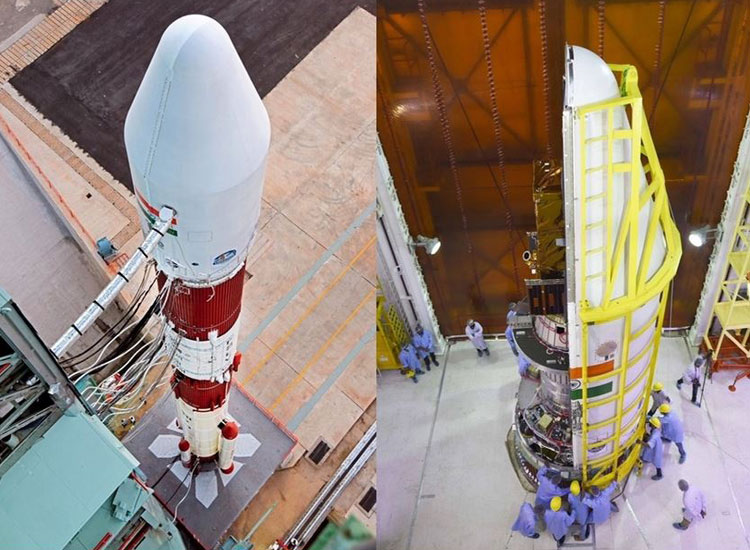 Chennai: Polar Satellite Launch Vehicle of India (PSLV) Will send 19 satellites into space today. Indian Space Research Organization (ISRO), A senior official said that the countdown to its launch has started since 8.54 am on Saturday. The Indian rocket PSLV-C51 will be launched on Sunday morning at 10.24 minutes with a launch pad from the Satish Dhawan Space Center (SDSC) in Sriharikota, Andhra Pradesh. In this rocket, 18 other satellites are also being sent to space, including the 637 kg Brazilian satellite Amazonia-1. 13 of these are from the US. The special feature of this launch is that along with it, Bhagavad Gita will also be sent into space.
Prime minister Narendra Modi The picture of the earth will revolve in the heights of the sky. Space Kids India has carved a picture of Prime Minister Narendra Modi on the top panel of its Satish Dhawan Satellite. According to Space Kids Indian's website, the move is being taken to show solidarity with the PM's self-reliant initiative and private companies' decision to open the way to space. Through this satellite, Space Kids India will conduct research on radiation in space.
Let us tell you that the countdown for the launch of the rocket has started at 8.54 am on Saturday morning at 10.24 minutes. This first space mission of India in 2021 will be long enough for PSLV rocket as its flight time will be 1 hour, 55 minutes and 7 seconds. If the rocket launches properly on Sunday morning, the total number of foreign satellites launched by India will be 342.
Isaro said that with the help of the Amazonia-1 satellite, deforestation in the Amazon region and in Brazil, the remote infrastructure will be further strengthened by providing users with remote sensing data for different analyzes related to the agricultural sector. Four of the 18 other satellites are in-space. Three of these are from the Unitysats, a consortium of Indian educational institutions, including the Jeppir Institute of Technology, Sriperumbudur, G.P., Nagpur. H. Raisoni College of Engineering and the Sri Shakti Institute of Engineering and Technology located in Coimbatore. One is produced by Satish Dhawan Satellite Space Kids India and 14 are from NSIL.



www.indiatv.in