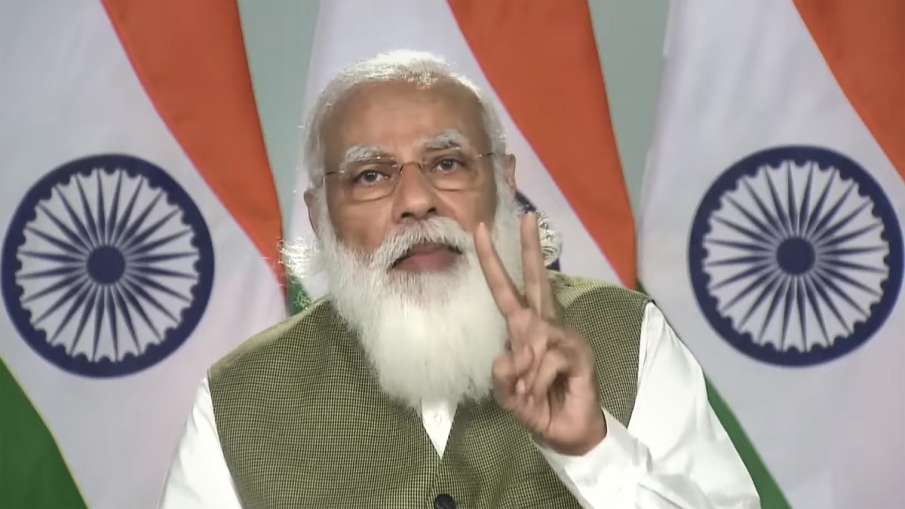 New Delhi. Terming water as a symbol of faith as well as a stream of development, Prime Minister Narendra Modi on Sunday called on the countrymen to conserve it. Sharing his views in the 74th episode of "Mann Ki Baat" program of All India Radio, the Prime Minister said that the Central Government will also start a 100-day campaign from "World Water Day" this year to conserve water. PM Modi said that in every society of the world there is a tradition associated with the river and many civilizations have also developed on the banks of the river.
Read- Today Rakesh Tikait will hold mahapanchayat in Saharanpur, know where the rallies will be in March, here is the list
He said that because Indian culture is thousands of years old, it gets more spread in the country. He said, "There will be no day in India when there is no water festival in some corner of the country." During the Magh days, people leave their homes and families and go to Kalpavas on the banks of rivers for the whole month. This time, Kumbh is also being held in Haridwar. Water is life for us, it is also faith and it is also a stream of development. "
Read- Who is Silu Nayak? For whom PM Narendra Modi said- Man on a Mission
Describing water as more important than Paras, he said that just as iron is converted into gold with the touch of Paras, in the same way, touch of water is necessary for life and development. He said, "For conservation of water, we should start from now."
Read- Farmers will sell 100 rupees a liter of milk, khap panchayat's decision against agricultural laws and the price of petrol and diesel
Referring to the World Water Day to be celebrated on 22 March, the Prime Minister said that water conservation is not a collective responsibility of the government but it has to be understood by the citizens of the country. He called upon the countrymen to start a 100-day campaign to clean the water bodies around them and to collect rainwater. He said, "With this thinking, a few days from now, the Jal Shakti Abhiyan – 'Catch Drain' 'is also being started by the Ministry of Water Power.
Read- Prime Minister Narendra Modi spoke to the countrymen about 'Mann Ki Baat', know what he said
The basic mantra of this campaign is to save water whenever and wherever it falls. "He said," We will mobilize from now and get the water harvesting system ready and get the pokhara cleaned in the villages, in the ponds. If we remove the obstruction of the way of water going to the water bodies, then we will be able to store as much rainwater as possible. " The Prime Minister also paid homage to Sant Ravidas ji on his birth anniversary and said that even today his knowledge, our path does guide him. The youth should not tie themselves in old ways to do any work. You, decide your life on your own. "
Read- CCTV: Chain snatching, knife stabbed, death from a woman who is adopting a two-year-old child in Delhi



www.indiatv.in