Highlights:
Foreign Secretary said – relations with China cannot be normal without peace on the border
Foreign Secretary Harshvardhan Shringla said at an event in Pune
Said – Efforts are being done in other areas as well.
New Delhi
Foreign Secretary Harsh Vardhan Shringla said on Sunday that India has always said during talks with Chinese interlocutors that the normal bilateral depend on the peace of the border areas. Shringla said that China is the second largest economy in the world and India has very important trade relations with it.
He clarified that India has to continue to work on economic relations with this neighboring country, but this will be on the foundation of progress on important issues that are politically important for both countries. Referring to the 'recent unrest' on the Indo-China border in eastern Ladakh, Shringla said in the Asia Economic Dialogue, 'In conversations with Chinese interlocutors we have always said that normal bilateral relations depend on peace in the border areas. '
He said in the online session of the event organized by Pune International Center that it is absolutely necessary and it is something that both sides have accepted as part of their treaty obligations. "Now that our (both countries) troops are retreating and progress has been made towards resolution in some areas of border confrontation, we have to see what else needs to be done," he said.
India's relations with China are blunt, normal ties cannot continue with 'encroachment' on the border
Shringla said, "Our border with China is very long and we are talking of just one area on the border. We are now trying to see whether we can use the same principles for solving other areas of Ladakh and some other areas which we are discussing. ' He said, 'We are also trying to look at how we can move forward on the issue of managing our long, but contentious border with China in a way that is common to both countries. Cooperate in maintaining the situation. '
China did not just support India for BRICS, know how India had suppressed the weak vein of Dragon
On May 5 last year, a border standoff between the armies of the two countries erupted after a violent clash in the Pangong Lake area in eastern Ladakh. Both sides had increased the deployment of their troops there and had deployed thousands of soldiers. Earlier this month, soldiers from both countries completed the withdrawal of their troops and equipment from the northern and southern banks of the lake.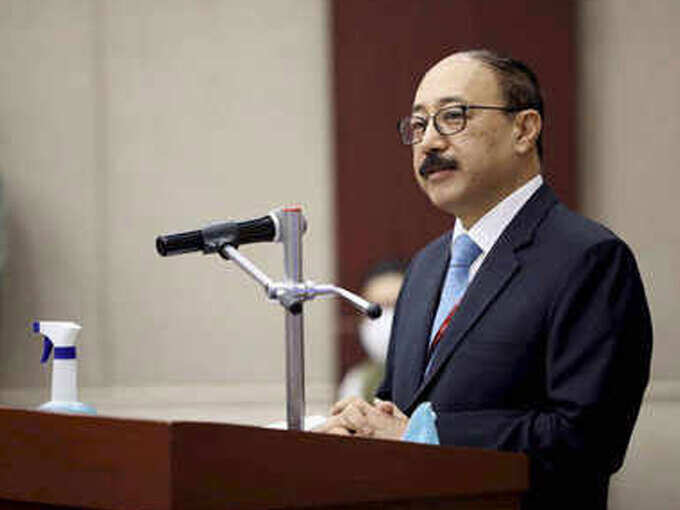 Foreign Secretary Harshvardhan Shringla (File Photo)

navbharattimes.indiatimes.com