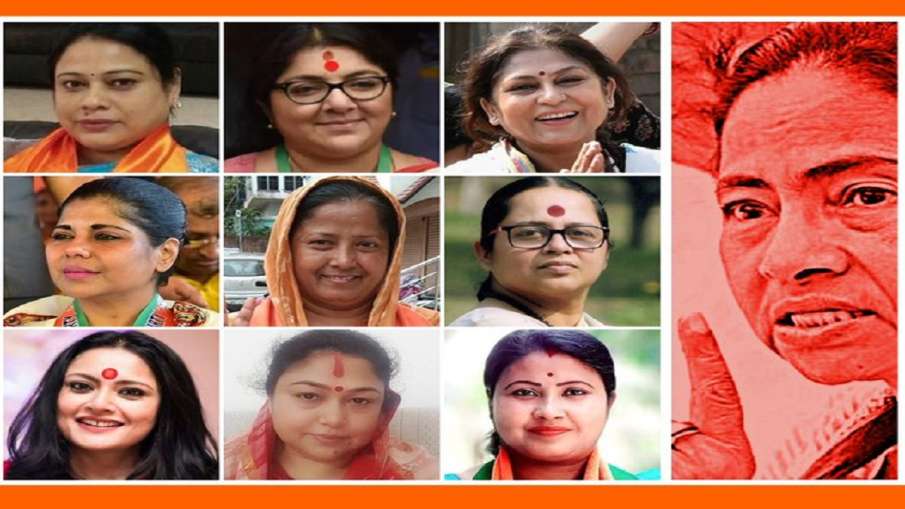 New Delhi / Kolkata In West Bengal, the election atmosphere has been heated as soon as the dates of elections are announced. The TMC attacks the BJP, saying that Bengal needs its daughter. After this, the West Bengal BJP has launched a scathing attack on Chief Minister Mamata Banerjee. The battle between the BJP and TMC in Bengal has now come on the Bua Vs daughter.
West Bengal BJP, while resorting to 'Navratnas', shared a picture from the official Twitter account caption- 'Bengal wants her daughter not Bua'. In this picture is the picture of many women leaders associated with the West Bengal BJP. Here the BJP has called Mamta a aunt.
Earlier, BJP had shared a video attacking Mamta in a similar fashion. The face of TMC as Mamata Banerjee is ahead in Bengal, but now in response to this, BJP has put forward the women eyes of Bengal BJP. The BJP's Bengal unit has released a poster on Twitter of nine of its women leaders.
Deboshree Chaudhary, Locket Chatterjee shared his photo
In the picture, BJP MP Deboshree Chaudhary is on the first number and MP Loket Chatterjee on the second number. Deboshree is the Dalit face of the BJP in Bengal. Deboshree, MP from Raiganj, was made Minister of State for Women and Child Development in the Modi government. It is accompanied by photographs of several women leaders including BJP Mahila Morcha president Agnimitra Paul, Rajya Sabha MP Rupa Ganguly, Bharti Ghosh, Mphuja Khatoon, Sripurna Mitra Chaudhary, Tanuja Chakraborty and Falguni Patra. The BJP has described her as the daughter of Bengal. On the other side is the picture of Mamta Banerjee. His background is black and white, that is, BJP is indicating his time is over.
In response to the TMC attack, the BJP has put forward the women eyeballs of the Bengal BJP. Bengal BJP has released the poster of its nine women leaders, saying that Bengal wants its daughter and not its aunt. The poster uses the Bengali word Pishi. This is the word that the BJP makes against Mamata Banerjee and her nephew Abhishek Banerjee by calling it 'Pishi-Bhaypo'. In this poster, BJP has introduced Mamta Banerjee as aunt. Explain that TMC gave the slogan of 'Bengal should want their daughter' at the beginning of the Bengal election 2021 campaign. Simultaneously, TM gave more air to the issue of 'local versus outsider'.
MP CM Shivraj will hold an election meeting in Bengal
Please tell that the CM of Madhya Pradesh Shivraj Singh Chauhan will hold an election meeting in Bengal on Sunday (February 28). He will join BJP's Parivartan rally. On 28 February morning, he will visit Kalighat Temple and Dakshineswar Temple. After this, Shivraj Singh Chauhan will rally Parivartan from Dhulagori turn near Kolkata to Howrah South. The Chief Minister will address the General Assembly in Dhulagori Mor, Alampur and Howrah South.



www.indiatv.in