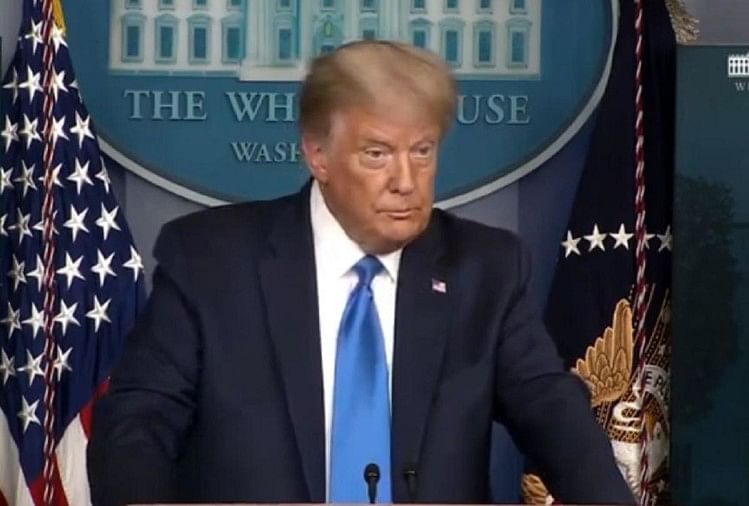 India News
Impeachment or the 14th Amendment: Can Trump Be Barred From Future Office – impeachment process against Trump goes ahead, Trump will never contest election again!
On January 14, 2021 by admin
World Desk, Amar Ujala, Washington
Updated Thu, 14 Jan 2021 09:33 AM IST
US President Donald Trump
– Photo: ANI
The impeachment process has been put forward by newly elected President Joe Biden's party lawmakers to remove President Donald Trump from office on January 20 over an attack on the US Parliament. Meanwhile, some US lawmakers have demanded that Donald Trump be disqualified from contesting re-election, holding political or constitutional office.
Newly elected President Joe Biden's Democratic Party lawmakers, who were trying to remove Donald Trump from office before January 20, have pushed the impeachment process forward. Now the Senate will hear the matter whether Trump will be removed from office for the time being or he will be disqualified to contest elections and hold any constitutional post.
Democratic lawmakers passed a resolution on Tuesday from the lower house of parliament, urging Vice President Mike Pence to remove Trump from office, but refused to use the 25th constitutional amendment. After this, Speaker of the House and Democrat leader Nancy Pelosi appointed nine managers for the impeachment trial.
25th Constitution Amendment

Under the 25th Constitutional Amendment, the Vice President and the Cabinet have the right to remove the President from office. There is a provision to take this step in a situation where the President is not discharging his constitutional duties.
Disqualification can be done through 14th amendment

US legal experts said Trump's future election could be banned through impeachment proceedings or the 14th Amendment of the US Constitution. According to the US Constitution, the President can be removed from office under the impeachment process. In addition, one can be disqualified for any honor, award, and position of trust found in America.

Three still disqualified

Let us tell that through the impeachment proceedings in American history, so far three officers have been disqualified to hold constitutional office and all three were judges. In 2010, the Senate disqualified a Louisiana judge.

www.amarujala.com