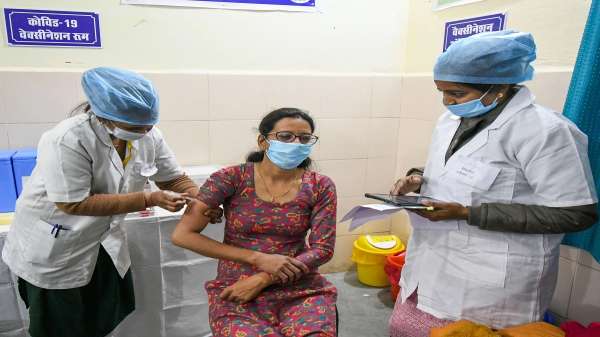 India News
Documents required for corona vaccination India latest update news. Know the answers to important questions before Corona vaccination, these documents will be able to be registered
On January 13, 2021 by admin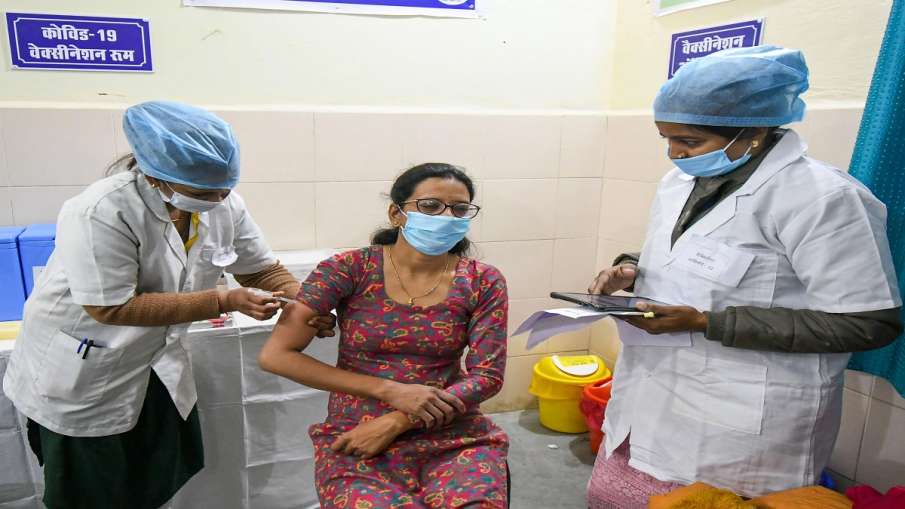 new Delhi. Corona vaccination campaign is starting across the country from 16 January. In such a situation, many questions will be coming to mind about how the Corona vaccine will look. In a tweet from the Union Family and Health Welfare Ministry, all kinds of information has been given about what all the necessary documents you will need to get the Corona vaccine. According to the media report, Prime Minister Narendra Modi will launch the vaccination campaign of Kovid from the national capital in a virtual manner on 16 January.
Covid vaccine will be given via injection
First of all, let us tell you that, Kovid will be given through vaccine injection. According to the Union Ministry of Family and Health Welfare, people who have been infected before COVID-19 should also be given two doses of the vaccine, so that the body can develop immunity to fight the disease. The full initial purchase amount of 1.65 crore doses of Corona Vaccine Covishield and Covaxin has been allocated in proportion to the Health Care Workers Database to all the States / UTs.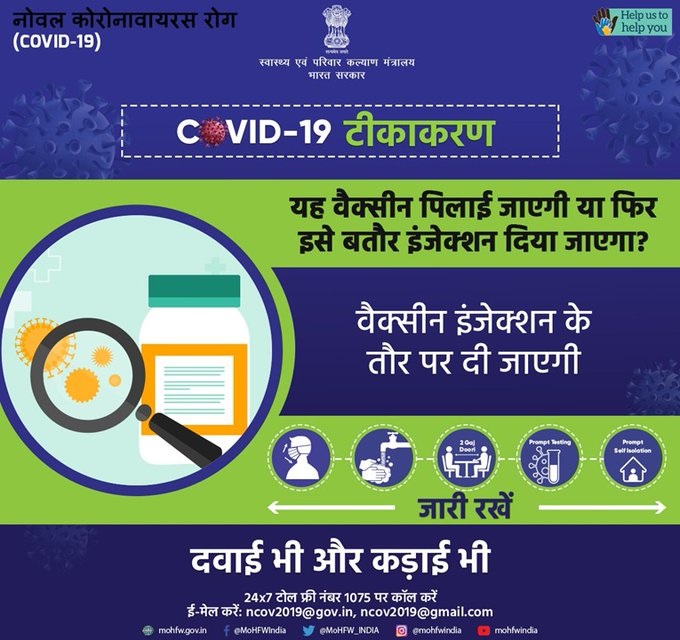 Covid vaccine will also be given via injection
These things will be required for registration
We are giving you complete information about the documents you will need to register Corona Vaccination. The Union Health Ministry has released a complete list of documents used in the corona vaccination registration.
You will need a photo ID for your registration, which will be verified at the vaccination site. It is mandatory to carry the same ID with you to get the vaccine. Any photo based document can be given for registration such as Aadhaar card, Voter ID card, Driving license, PAN card, Passbook issued by bank / post office, Passport, Employee ID given by Central / State government / public companies.
Along with this, you can also use smart card and MNREGA job card issued by RGI under NPR. In addition, you will also be able to use the health insurance smart card issued under the scheme of the Ministry of Labor and pension documents with photographs.
You can also register in Corona Vaccination through the official identity card issued from MPs / MLAs / MLC. You can take one of these.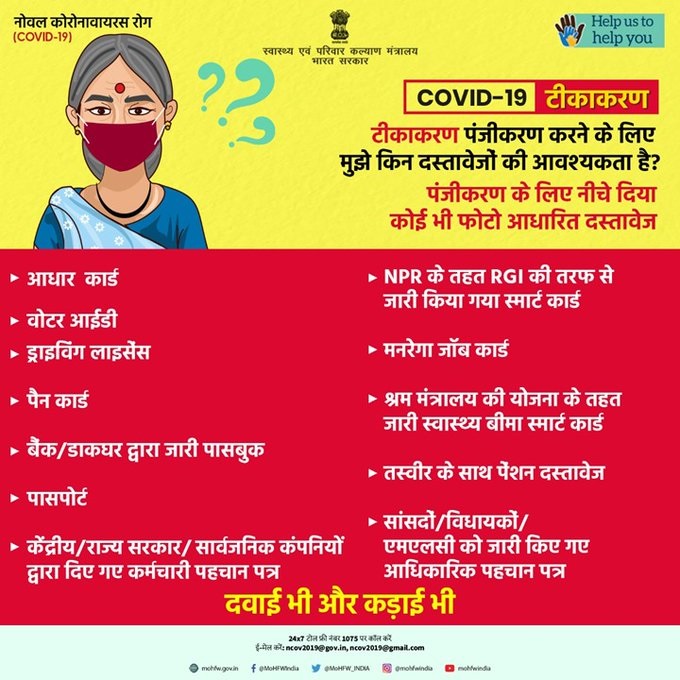 Documents required for corona vaccination
Vaccination campaign will start from January 16 across the country
Let us know that the indigenous 'Kovaxin' of India Biotech and 'Kovishield' of Serum Institute in the country have been approved for emergency use by the Drug Controller General of India. Preparations for India's vaccination campaign against Kovid-19 have gained momentum. The vaccines are being shipped to various airports across the country from where they were sent to smaller cities. Vaccination campaign is going to start from January 16 across the country.
Know where the vaccine reached
Bharat Biotech said in a statement on Wednesday, "After receiving the purchase order from the government for 5.5 million doses, the company dispatched the first consignment of vaccine (each bottle contains 20 doses)." Bharat Biotak said That the vaccine consignments were sent to Ganavaram (Andhra Pradesh), Guwahati, Patna, Delhi, Kurukshetra, Bengaluru, Pune, Bhubaneswar, Jaipur, Chennai and Lucknow. The first consignment of Oxford-AstraZeneca Kovishield vaccine was dispatched from the Serum Institute of India (SII) manufacturing center in Pune. SII has sent around 56 lakh doses of Kovishield, while Hyderabad-based Bharat Biotech said it has sent the country-developed vaccine Kovaxin in 11 cities in collaboration with the Indian Institute of Medical Research (ICMR) and the National Institute of Virology. It has asked to donate 16.5 lakh doses to the Center.
Corona vaccine will be free in Delhi – Kejriwal
Vaccination campaign will start at 89 centers in Delhi. Chief Minister Arvind Kejriwal said that if the central government fails to provide the corona virus vaccine to the people free of cost, the Delhi government will provide it free of cost to the residents of the national capital. Kejriwal said that he has already appealed to the central government because there are many people who cannot buy vaccines.
Know why the Cowin app has been created
It is worth noting that the Kovin app, which is helpful in getting the Corona vaccine, has not been launched by the government. However, notifications regarding the virtual session of the Prime Minister have been sent to the states and it has been said that some places should be identified to show the video and to register the site on the government's Kovin app. That is, do not download any Kovin app right now and do not register otherwise you can be a victim of fraud. For vaccination, the government has created a 'Kovin' (Kovid Vaccine Intelligence Network) app. This app will monitor the entire process from start to finish. Co-Win is an upgraded version of the Electronic Vaccine Intelligence Network (eVIN). Let me tell you that in the first phase, the first vaccine vaccine will be given free of cost to the frontline workers. Union Health Minister Harsh Vardhan had already given information about this app and said that people will have to register themselves in this app to get the vaccine installed.
There will be 4 modules in Cowin app
Once the Kovin app is launched, it will have four modules. This will include the user administrator module, beneficiary registration, vaccination and benefit allocation and status updation.
There will be three options under Beneficiary registration. Under this, there will be the option of self-registration, individual registration and bulk upload. Under self registration, beneficiaries will be able to register themselves directly through both web and mobile applications. After this, their data will be checked whether they are more than fifty years old or younger, or are suffering from Co-Morbid i.e. another disease.



www.indiatv.in