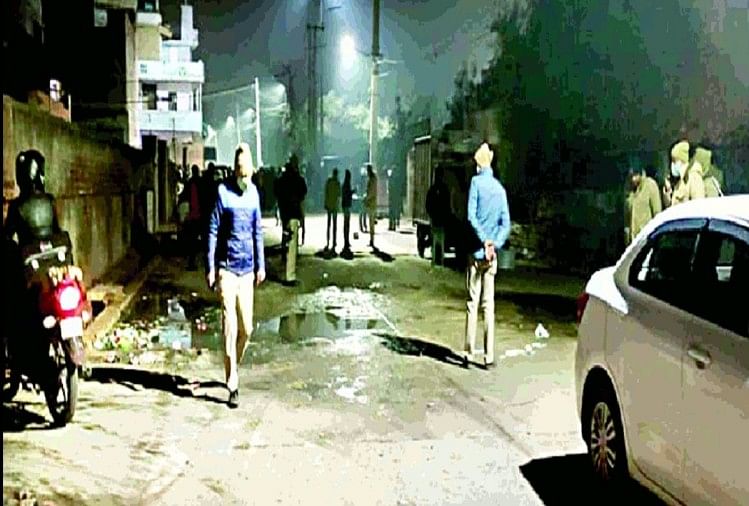 India News
Two men shot dead in Narela area of ​​Delhi crime news in Delhi: Two youths were killed by shooting bullets in Narela, car escaped narrowly during firing
On December 31, 2020 by admin
Police investigating on the spot
– Photo: Amar Ujala
The Narela area of ​​the outer-northern district resonated late Wednesday night with a flurry of bullets. Bike riding miscreants opened fire on a young man. During the attack, apart from this young man, another young man passing by also came under fire. The miscreants indiscriminately fired more than a dozen bullets.
A car was also shot in the attack. After the incident, the accused fled from the spot. Police reached the spot as soon as the news was received. The two youths were rushed to the nearest hospital, where both were declared dead. The dead have been identified as Kuraini, a resident of Narela, Shahabad (32) and Fakruddin (28).
Police have taken the bodies of both of them and sent them to the post mortem. After preliminary investigation, apprehension is being expressed that the crime has been committed in a mutual scuffle. According to the police, Shahbad lived with the family in Kurenai village, Narela. He is married and his family also lives here. He was present near the house late on Wednesday night. Meanwhile, bike riding miscreants suddenly started targeting him and opened fire. Fakruddin, a resident of the village at the time of the incident, was passing by. He was also hit by bullets.
The miscreants shot several bullets to Shahabad even after passing by. During the shootout, a car passing by also opened fire, but the car rider narrowly escaped. The driver went ahead and reported the bullet on the police picket. On receiving the news, besides the police of the police station, the district magistrate reached the spot.
After preliminary investigation, it was revealed that one of Shahbad's brothers is in jail for murder and other criminal cases. It is believed that due to rivalry, Shahbad was targeted and fired.
Efforts are also being made to find out whether the shot of the miscreants accidentally hit Fakruddin or he was also targeted and shot. There are reports of five to six shots being fired on Shahabad. Narela police station is registering a case of murder and is trying to identify the accused with the help of CCTV cameras installed nearby.

www.amarujala.com