In the Corona era, Sonu Sood emerged as the messiah of laborers and helpers. During the lockdown, Sonu Sood provided all possible help to those poor migrant laborers and helpers who were not reaching to take care of them. The campaign to help Sonu Sood, which started in the period of lockdown, continues even today. Someone needs to be treated, someone has to pay school fees, someone has to get employment or someone needs a roof over his head. Sonu Sood is still seen standing on one leg for help. But do you know that in the Sonu Sood lockdown period, more than 1.5 lakh migrants have been sent to their homes. This figure has been told by Sonu Sood himself.
Countries brought 6700 Indians stranded abroad
Sonu Sood has revealed these figures in a conversation with news channel 'Aaj Tak'. Sonu Sood when asked how many migrants did he bring to his home in the last 7-8 months so far? In response, the actor said, 'There was a time in the last few months when we started sending people by train instead of bus. Outside my house 2500 people used to stand in line. I have been able to send over 1.5 lakh people to their homes so far. Whereas we have brought 6700 people stranded abroad.
'No entry in politics, I will keep doing what I am doing'
Is Sonu Sood going to take an entry into politics ahead? Many people have expressed apprehension about Sonu Sood that he is going to step into the world of politics. But the actor has denied any such possibility. Sonu Sood said, 'I have received offers from many places. I have received offers from all parties, but I am not interested in it. I told all of them to let me do what I am doing.
Don't talk about mortgaging properties
In the past, there have been reports that Sonu Sood has mortgaged 8 properties so that he can help people. When asked about this, Sonu said, 'I don't think it is right to talk about it. I am getting people surgery. My goal is to have 1000 surgeries a month. In this episode, I got connected with Gautam Bhai and then I talked to doctors from all over the country. Today 47 doctors are associated with us. We have told all doctors that if a poor person comes for surgery, you will not take money from them, we will pay the fees.
Where did money come from to help people?
In the last 7-8 months, Sonu Sood has transported people to their home by bus, train and even plane. The house of the needy has supplied everything necessary. But where did he get so much money for all this? Answering this question, Sonu says, 'Now people who want to give me the honor or trophy, I ask them to give donation. I ask them to do one thing instead of giving trophy, give me your doctor and nurse. I give the patient. We are still having 24-25 surgeries everyday. Now I too have become a doctor. When I go to the gym in the morning, people stand outside taking reports. I look at them and take pictures and send them, by the time the workout in the gym is over, 3-4 people have been admitted to the hospital. When people come to pay money, then I say help me by adding a little more. Do not give me anything
How did you help Indian people living abroad?
Sonu Sood was asked how he thought of helping the people trapped abroad. The answer was, 'Some medical students were stranded in Kyrgyzstan. Message came from there. I had never been to Kyrgyzstan, so I had no idea from there. But meanwhile a child died there. In Kyrgyzstan, Kazakhstan, Georgia, Russia, and the Philippines, about 14 and a half thousand students were stranded. I spoke to the ambassador and embassy there. Then the paper worked. Took 7-8 days. The first flight that took off was 180 students from Kyrgyzstan. After that I also talked to Ambassadors and Embassies of other countries and thus the road became easier.
How much has changed in personal life and career?
Sonu Sood told in an interview that now the directors are reluctant to show him on the screen in Villan's role. He says, 'I am doing a South Indian movie. Prakash Raj sir had to hold my collar in it. But he refused. He said that if he does, people will speak ill. Then Chiranjeevi was shooting with Sir. He also said that he has been working for 40-45 years. Applause rings on his entry on screen. But for the first time, if another actor comes with him on screen, then for him more applause will be played.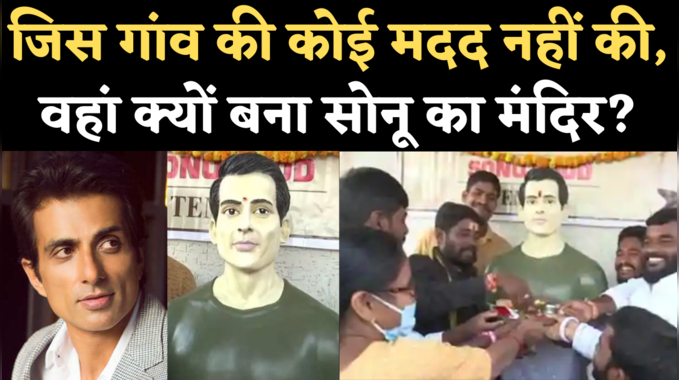 Sonu Sood Temple: Villagers built Sonu Sood temple in Siddipet, Telangana, told the country's hero

navbharattimes.indiatimes.com