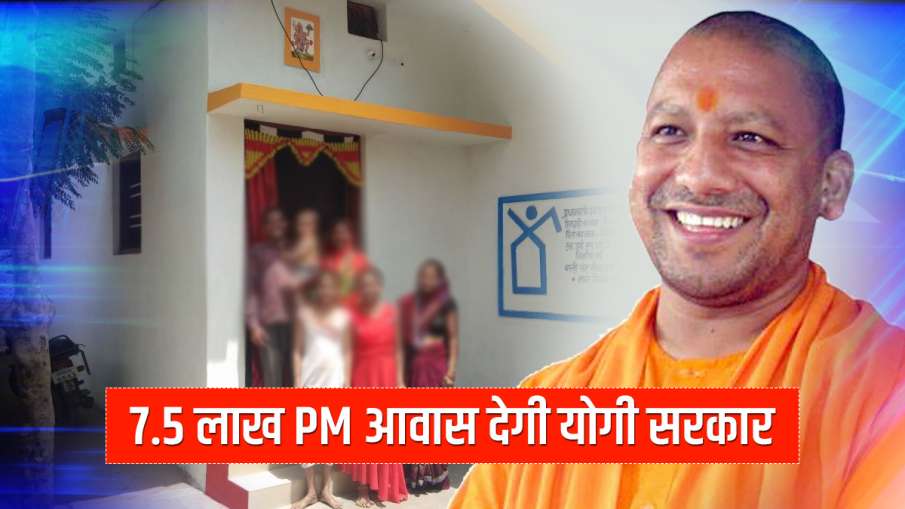 Lucknow. The Yogi Adityanath government of Uttar Pradesh is preparing to give a big gift to the most deprived section of the society on New Year. It will be a gift from the basic needs of a person to bread, cloth and house. The government plans to provide 7.5 lakh PM (Prime Minister) Housing Scheme to this class simultaneously. In this regard, Prime Minister Narendra Modi can also be present in the virtual event. It is known that UP is at number one in the matter of giving housing to the Prime Minister. Till now, 30 lakh families of the beneficiary families of about two crore houses provided under this scheme in the whole country belong to UP.
Read- Railways gifted to devotees of Mata Vaishno Devi, Vande Bharat Express
Chief Minister Yogi believes that a single home is the basic right of every person. Making it available to every character is also a duty of virtue along with the duty of a government. In line with this approach, the Chief Minister launched the Mukhyamantri Awas Yojana (Grameen) two years ago for those who were left out of the PM Awas Yojana. So far, 50,740 houses have been allotted under this scheme. 87 crore has been transferred to the beneficiaries account as the first installment for the construction of 21,562 CM houses. After the construction of these houses, their number will be 72,302.
Read- PM Modi's big statement on corona vaccine
The result of the allocation of PM and CM houses was that before Yogi became the CM, the people who lived in the dense forests of Gorakhpur, Maharajganj and some other districts who were not even citizens of Vantangia Azad India, today they have not only under these schemes It has its own house, but has also been saturated with all the public interest schemes of the government (ration cards, cooking gas, electricity, Ayushman Bharat etc.). The government wants that every Mushar family, leprosy patient, encephalitis, Kalazar and every person in the areas affected by the divine disaster get PM or CM accommodation. Also, they should be saturated with all public interest schemes.
Read- 'Aashiq' dug tunnel to woman's house to meet married girlfriend, but caught
This scheme was launched in February 2018 to provide one-time pucca house to the families deprived of the PM Awas Yojana, irrespective of eligibility. Under the scheme, 1.30 lakhs per house in Naxalite affected Sonbhadra, Chandauli and Mirzapur and 1.20 lakhs in the remaining districts are transferred to the beneficiary account. Apart from this, 12,000 Swachh Bharat Mission-MNREGA is provided for toilets. Employment of 90 to 95 days per housing beneficiary is provided from MNREGA itself. Under the Mukhyamantri Awas Yojana (Rural), the beneficiary himself has to construct a house in an area of ​​25 square meters. 40 thousand, 70 thousand and 10 thousand rupees are sent to the beneficiary's account in three installments respectively.
Read- From Corona and Lockdown to Sushant and the peasant movement, these news made the biggest headlines in 2020.
16,700 in the year 2018-19 and 34,040 (total 50,740) eligible households in the year 2019-20 have been saturated with this scheme. The government has spent 630.60 crores so far in this scheme. Under the scheme till now, 28,295 to Mushar class, 4,602 to Vantangian class, 155 to families affected by Kalazar, 266 to families affected by Japanese encephalitis, AES. Housing has been allocated to 272 affected families, 15,035 families affected by natural calamities and 2,115 families affected by leprosy. Apart from this, 16 981 general category, 33,500 scheduled caste and 259 scheduled tribe families have been allotted houses.
Read- America's big statement about Pakistan, said – We are ready to take Pearl's killers into custody



www.indiatv.in