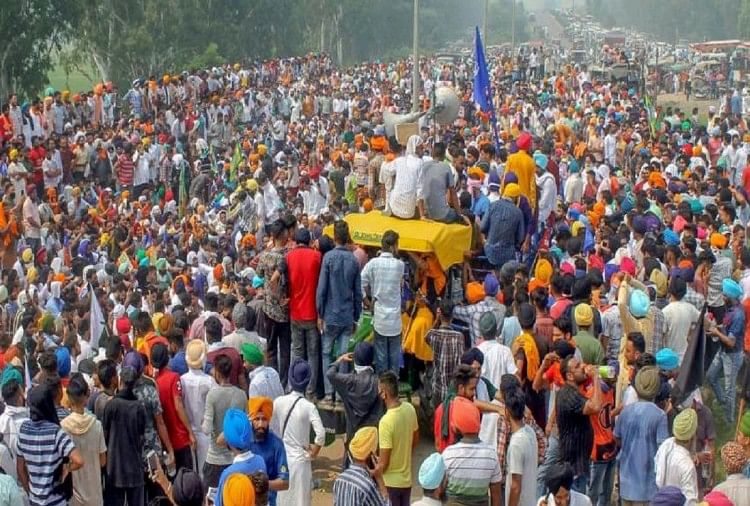 India News
Rajnath Singh On Farmers Protest, I Am Not The Only One Pained But Pm Narendra Modi Is Also Pained – Rajnath's reply to Rahul: I am a farmer and Modi born in a poor household, knows more about farming than him
On December 30, 2020 by admin
Farmers' movement
– Photo: PTI
Defense Minister Rajnath Singh has made a big statement on Wednesday about the widespread agitation of the farmer movement in the country. Talking to news agency ANI, he said that there is no question of being insensitive to farmers. Our farmers are demonstrating and I am not only sad, but Prime Minister Narendra Modi is also sad.
He said that some forces have tried to create misunderstandings among the farmers. We have also talked to many farmers. My only request to the farmers is that it should be discussed segment-wise and it should not be only in yes or no. We will try to find a solution soon.
He said that our Sikh brothers have always protected the culture of India. His contribution to protect the country's self-respect will be remembered. There is no question of his honesty.
I know more about agriculture than Rahul Gandhi
He said that Rahul Gandhi is younger than me and I know more about agriculture than him. Because I farmer and PM Modi are born from the womb of poor mother. Therefore, we cannot take decisions against farmers.
Answer given on MSP also
Rajnath said that the government has repeatedly said that the minimum support price will continue. People will punish them if leaders do not fulfill the promises in a democracy. We are trying to increase the income of farmers.
The Prime Minister of another country has no right to speak in our internal matter
On the statement of Canadian Prime Minister Justin Trudeau on the peasant movement, Rajnath Singh said that no other country's Prime Minister has the right to speak in our internal matter. They should stay away from our issue.
Saddened by the derogatory remarks on PM Modi
Rajnath Singh said that derogatory remarks should not be made against the PM. PMs are not just an individual but an institution. I have never used derogatory words against a former Prime Minister. The slogans of "Mar ja, mar ja" were chanted against the PM, I was really sad.
Wrong to call farmers 'Naxalites' and 'Khalistani'
He expressed his displeasure to the farmers on 'Naxalites' and 'Khalistani' and said that we express our deep respect for the farmers. They are our 'Annadata'.

www.amarujala.com