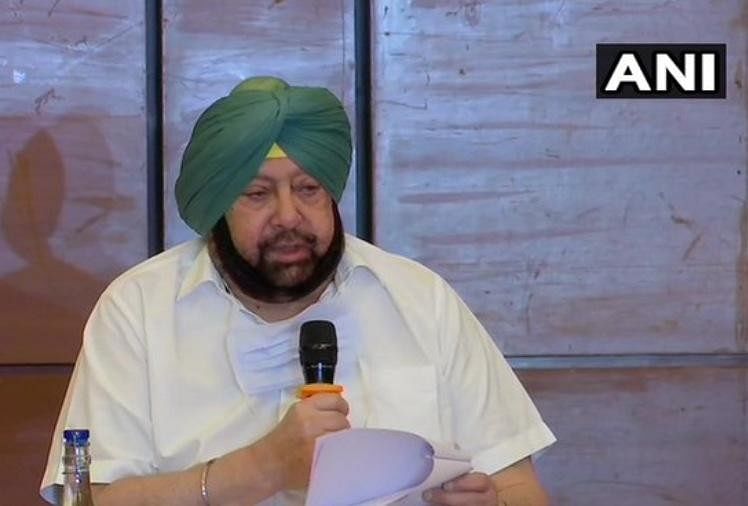 India News
Punjab Cabinet Today Approved Restructuring Of 10 Departments – Punjab Cabinet Decisions: 10 departments to be reorganized, 50 thousand posts to be recruited
On December 30, 2020 by admin
News Desk, Amar Ujala, Chandigarh
Updated Wed, 30 Dec 2020 06:22 PM IST
Captain Amarinder Singh (File Photo)
– Photo: ANI
Initiating the recruitment process for 50,000 government posts during the current financial year, the Punjab Cabinet on Wednesday approved restructuring of 10 departments. This will increase efficiency in departments. The cabinet met through video conferencing. In this, it was decided to create new and rational posts in their place by eliminating the non-essential posts. The cabinet empowered the Chief Minister to amend the rules as per the requirement for the proposed recruitment after reorganization of the departments.
It is noteworthy that the Cabinet approved the 'Provincial Employment Scheme 2020-22' on October 14 to fill positions in government departments, boards, corporations and agencies. This will fulfill the Chief Minister's promise to provide one lakh government jobs to the youth during the remaining tenure of Captain Sarkar.
2375 posts to end in restructuring of departments in Punjab
In the Cabinet meeting, the reorganization of 10 government departments in Punjab has been approved. These include Labor, Technical Education and Industrial Training, Public Works Department (B&R), Animal Husbandry, Fisheries and Dairy Development, Tourism and Cultural Affairs, Local Bodies, Printing and Stationery, Sports and Youth Services, Defense Services Welfare and Cooperative Departments. Are included. During this process, about 2375 posts in these departments will end and 785 posts will be created in the first round. In future, more posts will be created as per the need.
Punjab Cabinet today approved restructuring of 10 departments, thus paving the way of boosting their functional efficacy through fresh recruitments & technical upgradation. This will also pave way for quickly filling up 50,000 posts over next few months: Punjab CM Amarinder Singh pic.twitter.com/jLvpgTOMSE

– ANI (@ANI) December 30, 2020
In Punjab, so many posts will be created instead of so many vacant posts
Against 204 vacant posts in Labor Department, 68 new posts will be created in IT, Accounts, Labor Inspector and Legal Cadre.
84 new posts will be created against 271 vacant posts in Technical Education and Industrial Training Department.
The Critical Design Cell will now be headed by the Chief Engineer under the sanctioned proposal for restructuring the PWD (B&R) Department. His associates will be Superintending Engineer (DRD), 4XEN and 12SDE. In addition, the existing system of quality control will be upgraded and expanded to three regional labs under Deputy Director Research Lab Patiala. The Quality Assurance Mechanism Cell will consist of Chief Engineer (QA-cum-CVO), SE (QA-cum-SVO), 5 Exine-cum-VO, Deputy Director Research Lab and 10 SDE. The Chief Engineer will now be assisted by two Deputy Directors (Administration) in place of a Chief Engineer in Amla Branch. In the new legal cell, the posts of Senior Law Officer, Law Superintendent, Law Officer, Senior Assistant Law and Law Clerk have been approved. 35 posts of IT professionals were also approved.
Under the reorganization of the Department of Animal Husbandry, Fisheries and Dairy Development, 326 posts have been created by eliminating some of the existing 625 posts. Of these, 264 posts will be created in Animal Husbandry Department, 19 Fisheries Department and 43 Dairy Development Department. Apart from this, all the posts of Group-D will also be considered over.
Under the restructuring of Tourism, Cultural Affairs, Archeology, Ajay Ghar and Archive Department, new posts will also be created in place of 53 posts. Similarly, 87 vacant posts, including 67 posts of Group-D, will be filled through outsourcing.
23 posts will be created against 49 posts in local government related department.
In addition to filling 30 posts in the Printing and Stationery Department, four new posts have been approved.
In place of 69 essential posts in the Department of Sports and Youth Affairs, 42 new posts have been approved. Outsourcing of long-vacant Group-D posts in the department will be filled.
23 posts will be created by ending 49 posts in the service welfare department.
Approval has been given to increase 93 posts in the Cooperative Department which includes two audit officers, 75 senior auditors, six superintendent grade-2 and 10 senior assistants. Apart from this, 120 posts have been reduced from the total sanctioned 774 posts of Inspector Audit, as well as one of the three posts of drivers.
read ahead
In Punjab, so many posts will be created instead of so many vacant posts



www.amarujala.com