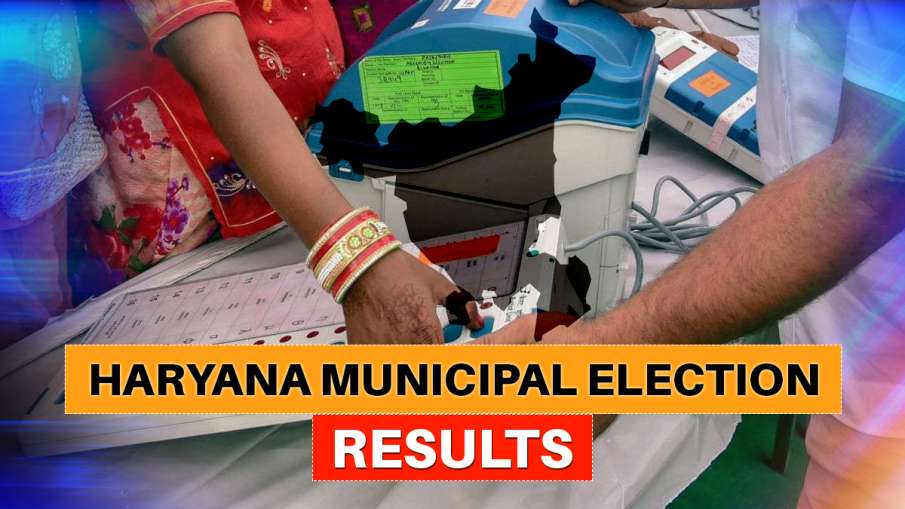 Haryana Municipal Elections Today is the day of results for The counting of votes has started from 8 am today. Voting was held on December 27 for the Municipal Corporation of Sonipat, Panchkula and Ambala, Rewari Municipal Council, Sampla, Dharuhera and Uklana municipalities. There has been a direct election of Mayor, City Council and Municipal President. Talking about the voting, 56.3 percent in Ambala, 57.7 percent in Sonipat, 55.4 percent in Panchkula, 69.2 percent in Rewari Municipal Council, 81.5 percent in Sampla Municipality, 73.8 percent in Dharuhera and 79.2 percent in Uklana.
The wait for 107 candidates in the 27-day election examination will end today with the election results coming. On December 27, 1 lakh 5 thousand 683 sealed the fate of 6 mayoral candidates and 101 ward candidates, and the results were closed in EVMs, which will be in front of everyone today. In Panchkula, Sonepat, there is a direct fight between BJP and Congress while Ambala has a four-cornered contest. In Rewari Municipal Council, there is a close fight between BJP and Congress. Both parties are claiming their victory in the body elections.
Latest results
Independent candidate Sushil Sahu has won the post of Ukala Municipality President. He defeated his nearest rival Jajpa's Mahendra by 419 votes.
All independents have won in the Uklana municipal election. Satwant Singh won from Ward 1. Jaswinder Singh from Ward 2 and Ritu Jain from Ward 3 won. Ward 4 Arun Goel and Ward 5 won Mamta Goel. Rekha Gupta from Ward 6 and Harish Kumar from Ward 7 won. Praveen Gill was victorious from Ward 10, Sunitae from Ward 8 and Geeta from Ward 8. Sushilay from Ward 11, Anju Rani Councilor from Ward 12 and Sunil Kumar from Ward 13.
Independent candidate Pooja defeated BJP in the stronghold of former Haryana CM Bhupendra Singh Hooda in Sampala Municipality elections. Pooja received 6428 votes, while Sonu Valmiki got only 2468 votes.
HLP-backed candidate Nisha Bajaj won the Sirsa ward by-election. B J P. The JJP alliance candidate finished third.
BJP's Muniram won in Ward.7 in Sonipat. He received 1240 votes. There were independent candidates on the second number who got 1152 votes. Muniram won by 88 votes.
Jasbir of Haryana Jan Chetna Party won from Ward No 1 in Ambala. He defeated the BJP candidate.
In Rewari, BJP-JJP candidate lost in Dharuhera, Independent candidate Kanwar Singh Sarpanch won. There were 10 candidates in the fray for the city council chairman in Dharuhera.



www.indiatv.in