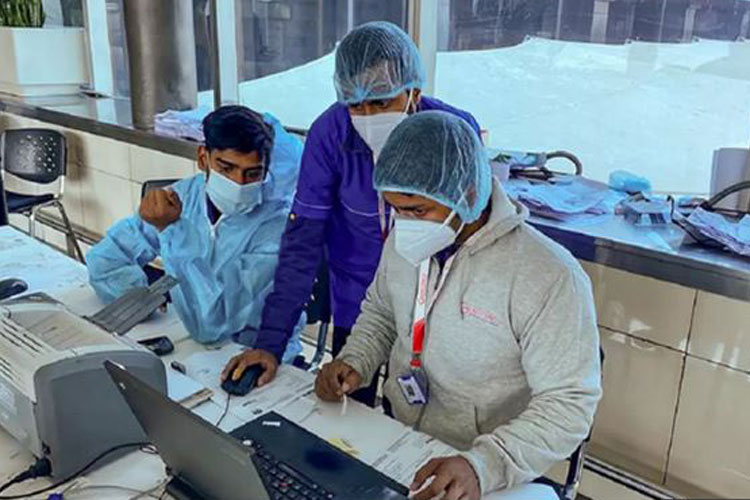 Meerut: A big news is coming from Uttar Pradesh on Britain's new strain. An alert has been issued in the entire UP after the 2-year-old girl got positive in Meerut. yea baby New strains of coronavirus Is found to be positive from. Please tell that 1655 people have returned from Britain in UP, out of which 10 people have received positives from the new strain. 4 people from Meerut, 3 from Noida, 2 from Ghaziabad and one person from Bareilly have got positive. Central government till 7 January Britain All incoming flights have been banned.
In which lab, how many cases of new corona strains have been reported? See
Most cases have been found in Delhi so far. A new strain of Corona has been found in 8 samples in a test conducted in a lab in Delhi.
Apart from this, 1-1 cases have been reported in the labs of Kalyani and Pune.
While so far 7 cases have been reported in Bangalore and 2 in Hyderabad.
The Union Health Ministry informed that eight cases during the investigation at the National Center for Disease Control (NCDC), one case at the 'National Institute of Biomedical Genomics' (NIBMG) located at Kalyani (near Kolkata), National Institute of Virology (NIV), Pune One case, seven cases at the National Mental Health and Neurology Hospital (NIMHANS) in Bangalore, two cases at the Center for Cellular and Molecular Biology (CCMB), Hyderabad and one at the Institute of Genomics and Embedded Biology (IGIB), Delhi. He Came.
The ministry said on Tuesday that six people from Britain have been found infected with the new type of virus. All these people have been kept in separate residence halls in the marked health care centers and the people who come in contact with them have also been kept in separate houses. He told that the people traveling with these people, their family members and the people who came in contact with them are being traced. Genome sequencing of other samples is being done.
"The situation is being closely monitored and states are being regularly advised to increase vigilance, prevent infection, increase screening and send samples to INSACOG laboratories," the ministry said. It is to be noted that the redesign of the virus first found in Britain has also been found in Denmark, Holland, Australia, Italy, Sweden, France, Spain, Switzerland, Germany, Canada, Japan, Lebanon and Singapore. The ministry said that between 25 November and 23 December, around 33,000 passengers arrived at various airports from Britain to India. All these passengers are being traced and the central and state governments are conducting RT-PCR checks on them.
India has devised a proactive strategy to detect and prevent mutated variants of the virus. This includes temporarily halting all flights arriving from the UK from midnight on 23 December to 31 December and mandating RT-PCR screening of all air travelers returning from the UK.
Related Video



www.indiatv.in