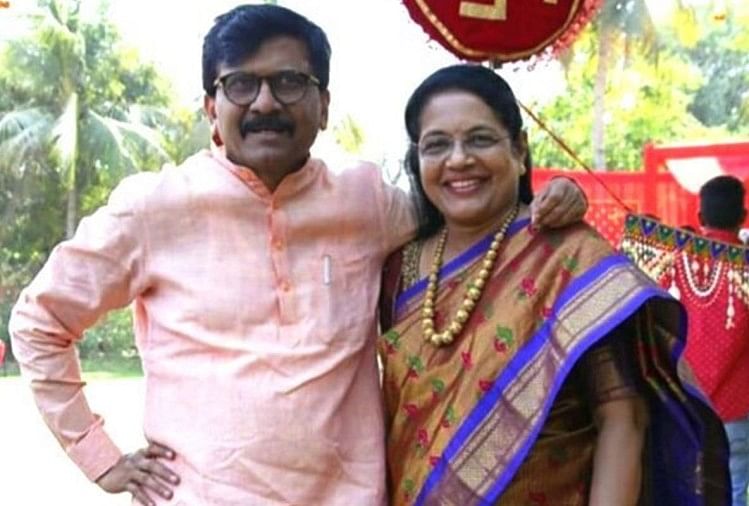 India News
Pmc bank scam case live updates ed ask sanjay raut wife varsha to appear before it today bjp sharad pawar Shivsena
On December 29, 2020 by admin
News Desk, Amar Ujala, Mumbai
Updated Tue, 29 Dec 2020 10:40 AM IST
Sanjay Raut with wife Varsha (file photo)
– Photo: Social Media
Varsha Raut, wife of Shiv Sena MP and senior leader Sanjay Raut, has refused to appear before the Enforcement Directorate (ED) on Tuesday in connection with the Punjab and Maharashtra Co-operative (PMC) bank scam case. He has asked the agency for time till January 5. The agency had summoned him for the third time and asked him to appear today. Earlier, he twice refused to appear before the agency citing health.
Maharashtra: Shiv Sena MP Sanjay Raut's wife Varsha will not appear before Enforcement Directorate (ED) today in PMC Bank scam case. She has sought time from the agency till January 5.

– ANI (@ANI) December 29, 2020
In September last year, the RBI lowered the withdrawal limit and banned the activities of PMC Bank after an alleged fraud of Rs 4,355 crore. The ED later seized movable and immovable assets worth more than Rs 3,830 crore owned by Housing Development Infrastructure Ltd (HDIL) in connection with the case. Meanwhile, Raut has said that sending summons to his wife is cowardice.
Also read- ED notice to wife: stunned Sanjay Raut's target on PM and Home Minister Shah
Targeting women is fun
On ED summons, Raut held a press conference on Monday and said, "We are law-abiding. The central government is under pressure on the ED. We are not afraid of these things. A similar answer will be received from the Shiv Sena. ED is not necessary for us. We have done nothing wrong. If you target the family, you will respond in the same way. We had informed the BJP about PMC and HDIL. The ED has become the office of the BJP. Many BJP leaders keep coming and going there. There is nothing more than the law, neither me nor you. We will run this government at any cost. There was an attempt to bully me but I am their father. '
The Shiv Sena leader said, 'In the last one year, Sharad Pawar, Eknath Khadse and Pratap Sarnaik received notices and now all of you are discussing my name. All these people have played an important role in government formation in Maharashtra. These are pieces of paper and nothing else. It is cowardice to target women at home. We are not afraid of anyone and will react in a similar way. The ED needed some papers and we have submitted them on time. '



www.amarujala.com