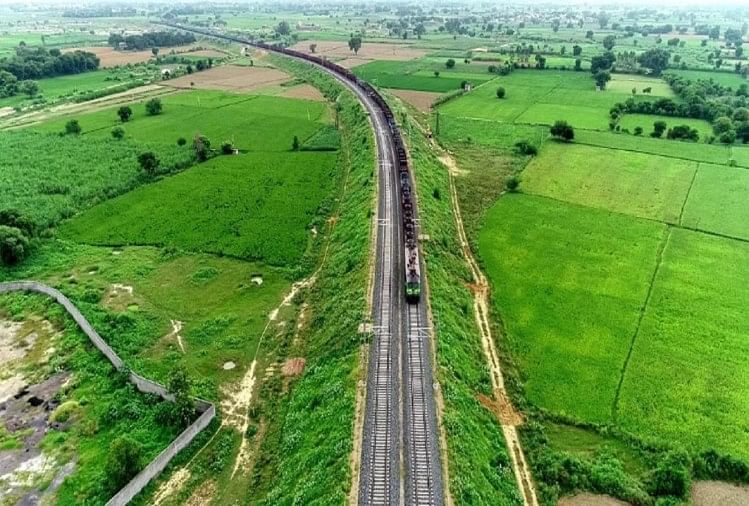 India News
Dedicated Freight Corridor Launched By Pm Modi, Know What Are Its Benefits – Freight Corridor launched by PM Modi at a speed of 100 km
On December 29, 2020 by admin
Eastern Dedicated Freight Corridor
– Photo: Social Media
Prime Minister Narendra Modi today inaugurated the 'New Bhaupur – New Khurja section' of the Eastern Dedicated Freight Corridor (EDFC) through video conferencing on 29 December. The formation of the Eastern Dedicated Freight Corridor (EDFC) will increase freight facilities in the country.
The 351 km long New Bhaupur-New Khurja section of EDFC has been built at a cost of Rs 5,750 crore. This section will also reduce congestion from the existing Kanpur-Delhi main line and enable the Indian Railways to run faster trains.
The goods train will be operated at a speed of 100 km per hour on the track of the Eastern Dedicated Freight Corridor. Due to passenger trains, it now takes several days for freight trains to cover such a distance. The goods train will not have to stand in the loop line to pass the passenger trains. On an already existing track, there were about 170 to 200 freight trains while 375 passenger trains were running on normal days. Due to shifting of goods trains, the track will remain for passenger trains, which will reduce the possibility of trains getting late and speed will also increase.
A state-of-the-art Operation Control Center (OCC) at Prayagraj will serve as the command center for the entire route of EDFC. The OCC is one of the largest structures of its kind globally with modern interiors, labor efficiency design and best acoustics.
The Eastern Dedicated Freight Corridor (EDFC) is 1856 route kilometers long. It starts from Sahnewal near Ludhiana (Punjab) and ends at Dankuni in West Bengal, passing through the states of Punjab, Haryana, Uttar Pradesh, Bihar and Jharkhand. The first diesel engine will run trains on the corridor route, as electrification has not been completed. According to officials, work will be done on it soon, after which the electric locomotive engine will be driven by the goods train.
This section deals with local industries like aluminum industry (Pukhrayan area of ​​Kanpur Dehat district), dairy sector (Auraiya district), textile production / block printing (Etawah district), glassware industries (Firozabad district), Pottery (Khurja in Bulandshahr district) , Will open new opportunities for asafoetida production (Hathras district) and locks and hardware (Aligarh district).
The project aims to speed up infrastructure and industry in states along the corridor route. About 57 percent of this corridor passing through many states will pass through UP. The Dedicated Freight Corridor will benefit the most industries like Chemical and Fertilizer, Agro and Food Processing, Power Plants, Warehousing, Manufacturing and Export Units.

www.amarujala.com