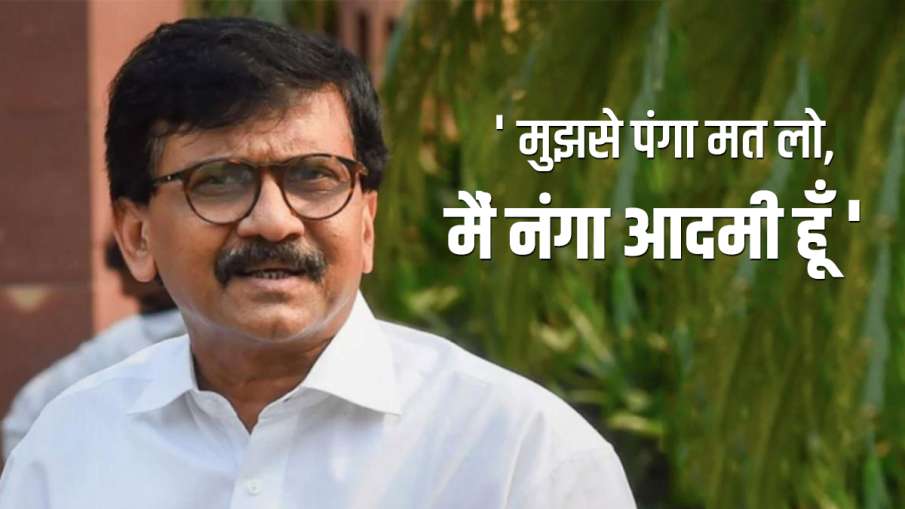 new Delhi: A day after the Enforcement Directorate (ED) issued summons to Varsha Raut, wife of Sanjay Raut, the Shiv Sena chief spokesperson warned the central government that he was not afraid of such things. The Shiv Sena leader said that the battle of politics should be face to face. "I have spoken to Chief Minister Uddhav Thackeray and the Shiv Sena will respond to them in its own way," he said. Raut attacked the Modi government by holding a press conference on Monday afternoon.
Sanjay Raut said that do not mess with me, I am a naked man and a Shiv Sainik. I have a BJP file, if you remove it, you will have to run away from the country. I have names of 121 people. Will give it to ED soon. There are so many names that ED will have to work for 5 years. Then the ED will know who is screwed.
Also read: Government of this state recovered Rs 115 crore fine from those not wearing masks
Sources said Raut's wife Varsha Raut has been asked to meet officials at the ED's Mumbai office on December 29. The agency is investigating the alleged financial transactions between Varsha Raut and Praveen Raut. Meanwhile, the allied parties of the ruling Maha Vikas Aghadi have come out against the BJP.
The Nationalist Congress Party (NCP) and Congress, along with Shiv Sena leaders, attacked the BJP for targeting opposition leaders and said that those who spoke against the BJP's policies are targeted.
Raut did a tweet, which was based on a 1981 popular Bollywood song, Aa Dekha Jara, Kissme Kisna Hai Dum, Jam Ke Rana Kadam, Mere Saathiya. Stating that he does not care about such notices, Raut clarified that if the ED is doing its job then it should be legal, but if illegal, he (the ED) should be more careful.
Also read: Wave of anxiety spread in America by this amazing decision of Pak court
Saying that no ED notice has been received, Raut targeted the BJP – I have sent my man to the BJP office. If the ED notice has been sent there, we will come to know. NCP leader and Home Minister Anil Deshmukh said the BJP at the Center is misusing central agencies like ED and CBI to create fear among political opponents, which is a shame.
Deshmukh said, whoever dares to speak against the BJP or its policies is targeted by the ED-CBI. We have never seen this kind of politics. Congress state president and revenue minister Balasaheb Thorat said that since the BJP took power at the center, central agencies were being used to target opposition parties in this way, but our government was afraid of such threats. Is not supposed to.
Also read: HSRP: High Security Number Plate and Fuel Sticker Case Reached Delhi High Court, got these suggestions
Shiv Sena Tourism Minister Aditya Thackeray also termed the ED notice as politics, while former Union Minister and NCP leader Praful Patel said, there is no need to take ED's notice seriously. Patel said that there are many people who get ED notice without the involvement of such persons. If someone is really guilty, it will come to the fore and even the politics behind it will be recognized.
Mumbai Guardian Minister Aslam Khan said that before anyone speaks against the BJP, they should be prepared for such notice from the ED-CBI. All these have become the norm in the last few years under BJP rule. Explain that ED has called Varsha Raut for questioning on December 29, after which a notice was given on December 30 to senior NCP leader Eknath Khadse – who left the BJP last October. Apart from this, investigation is also going on against another senior leader Pratap Sarnayak and his family.
Khadse has been summoned regarding the Pune land deal while Varsha Raut is to appear in a case related to PMC Bank. On behalf of the BJP, Maharashtra leader Kirit Somaiya asked Raut to prove his innocence in the case and asked if his family was a beneficiary in the PMC bank scam?
Somaiya said in a tweet and video on social media late Sunday night, I heard about the ED's notice to the Sanjay Raut family. Will Mr. Raut tell us that his family is the beneficiary? Have they received notices in any investigation before this? 1 million depositors are victims in the PMC bank scam. Political patronage is not a healthy idea if the ED needs any information. All want a revival of the PMC bank.



www.indiatv.in